Our People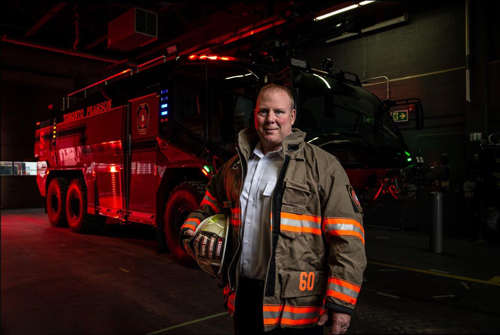 Todd Aitken: Fire Chief
Career highlight: I feel honoured and privileged to have been given this remarkable opportunity to work alongside so many dedicated professionals and to be a member of one of the most respected professions in the world.
Specializations: Leadership, Incident Command, Officer Development, and Team Dynamics
Favourite thing about FESTI: Every day I am able to mesh three of my passions: firefighting, aviation and learning.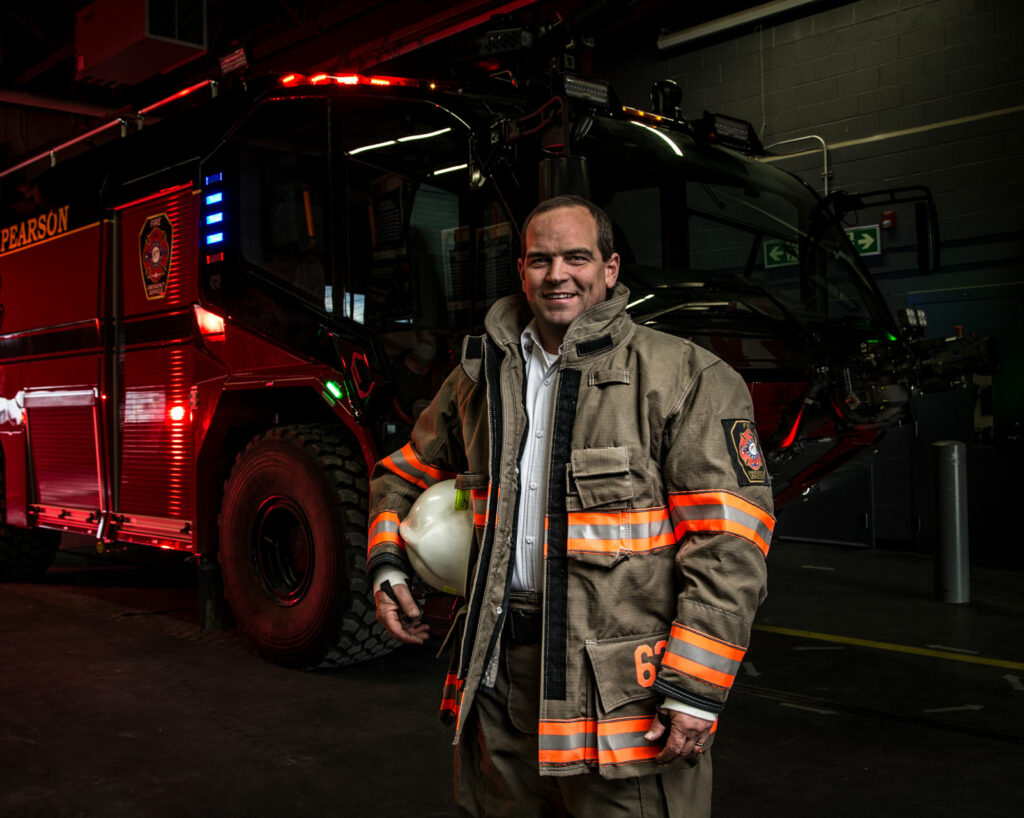 Phillip Bott: Division Chief
Career highlight: Throughout my career with the Greater Toronto Airports Authority, I have worked as a co-op student, firefighter, captain and division chief. These roles have provided me with great knowledge and many memorable moments.
Specializations: Course and class management and management of the Ontario Fire Administration INC (OFAI) program.
Favourite thing about FESTI: Managing programs that impact the next generation of firefighters and sharing our knowledge worldwide.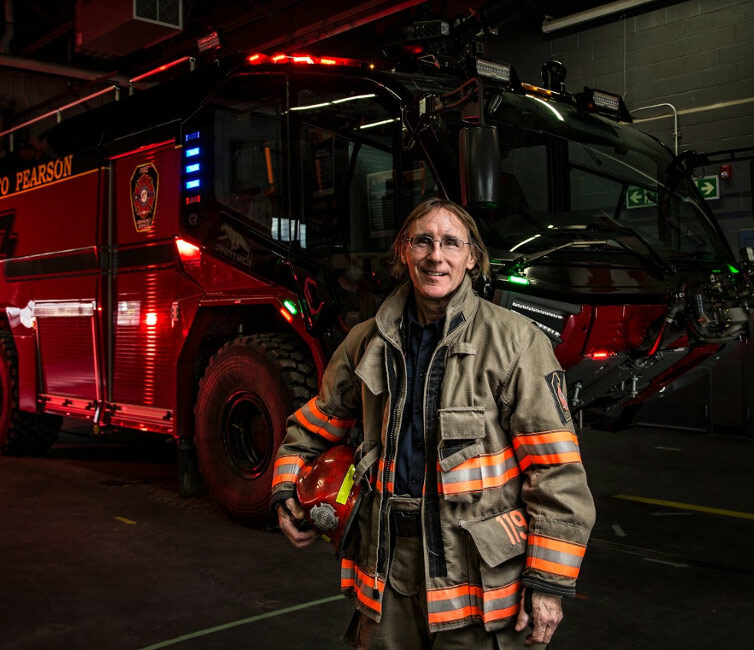 Alan Brody: Captain, Fire Training Officer
Career highlight: The number of firefighters that I have trained over my career is very rewarding. To succeed at FESTI, you need to arrive with questions and leave with answers.
Specializations: Working at Heights, Structural Fires, Officer Development.
Favourite thing about FESTI: The student-instructor interactions.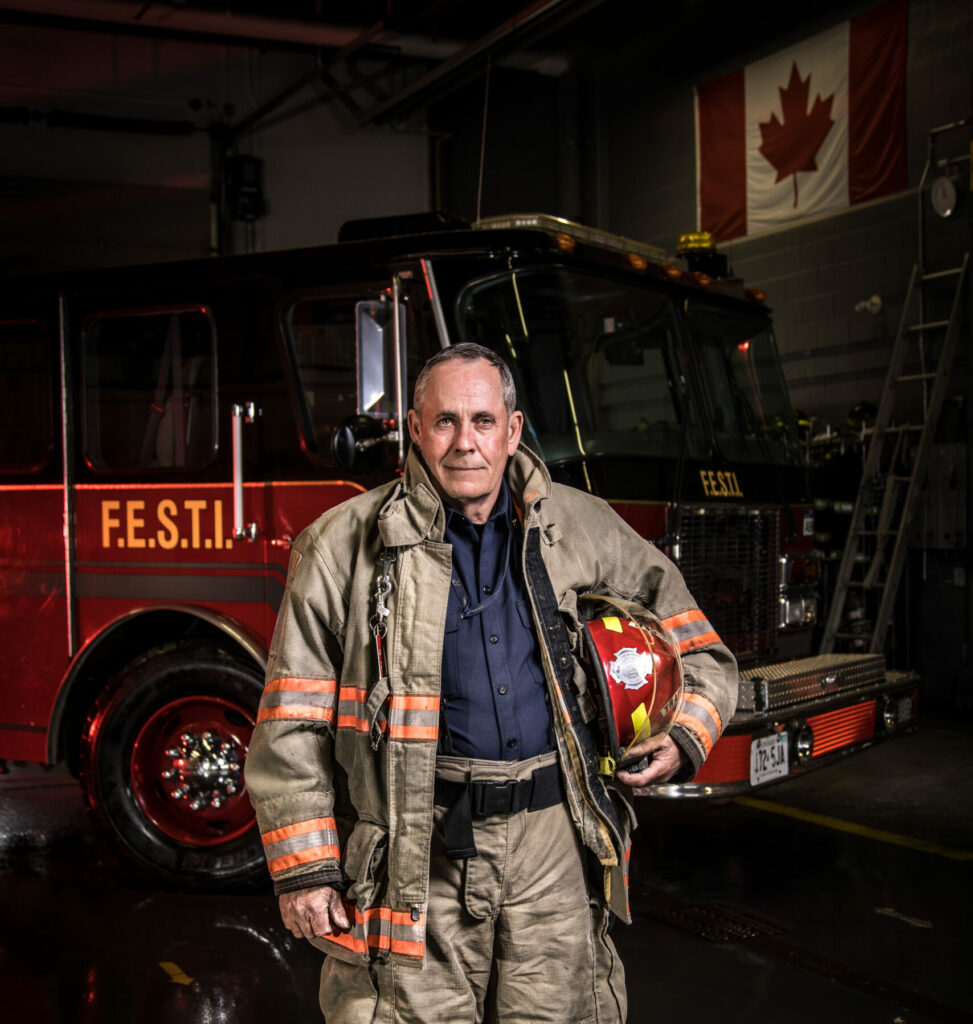 Randy Fleming: Captain, Fire Training Officer
Career highlight: A professional firefighter with over 20 years of experience, I am a fire suppression specialist and to auto extrication expert. I taught auto extrication to the Peruvian Fire Service on a 10-day mission with Firefighters without Borders in 2005.
Specializations: Structural Fires, Incident Command, Pump Operations.
Favourite thing about FESTI: Our experienced professional instructors set us apart from other colleges. Here, our faculty's career is training – it's not a part time job like other colleges. Taking our students right through to the hiring process is our commitment, and our success is our students succeeding. The support doesn't end once the certificates have been awarded; it carries on until our students become professional firefighters.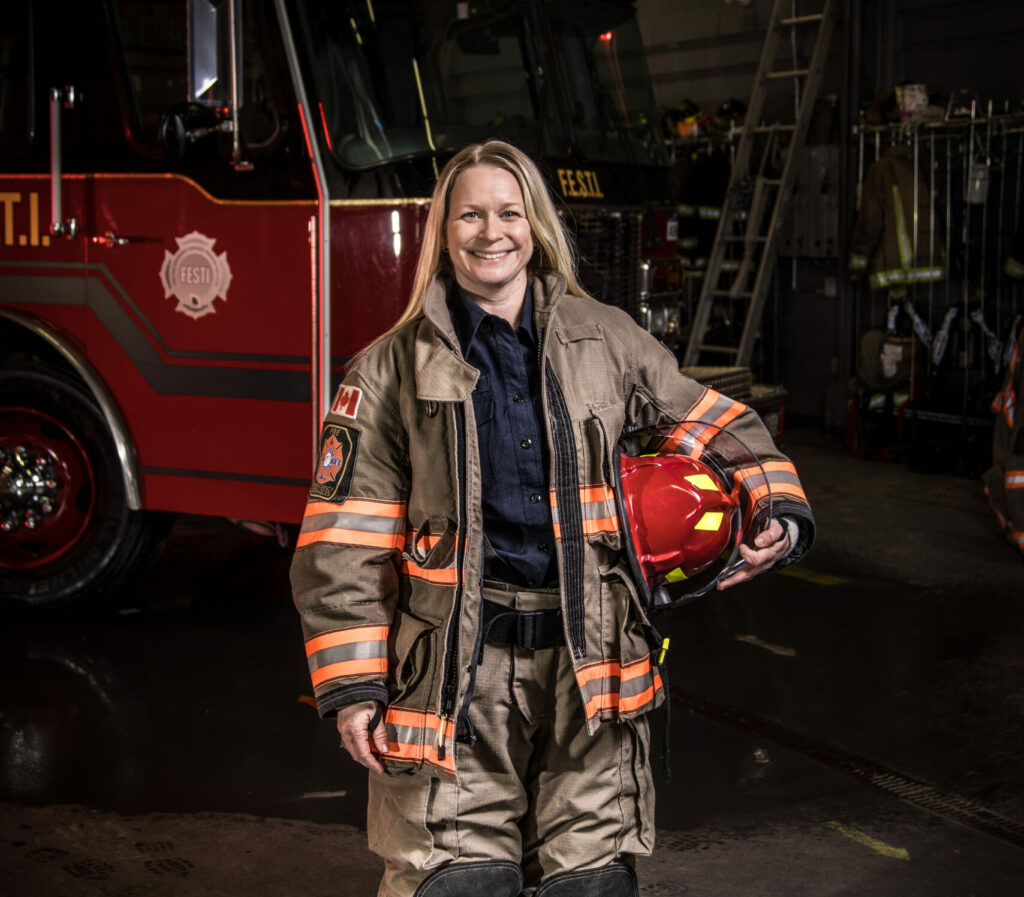 Stephanie Haldane: Captain, Fire Training Officer
Career highlight: A dedicated Learning Professional with 11+ years in my field it is my passion to improve our student experience at FESTI
Specializations: Instructional Design, eLearning, EQI coach, Leadership & Communications Training
Favourite thing about FESTI: Hearing the student success stories! I am so proud when I see the accomplishments, and the impact we are having on the fire service.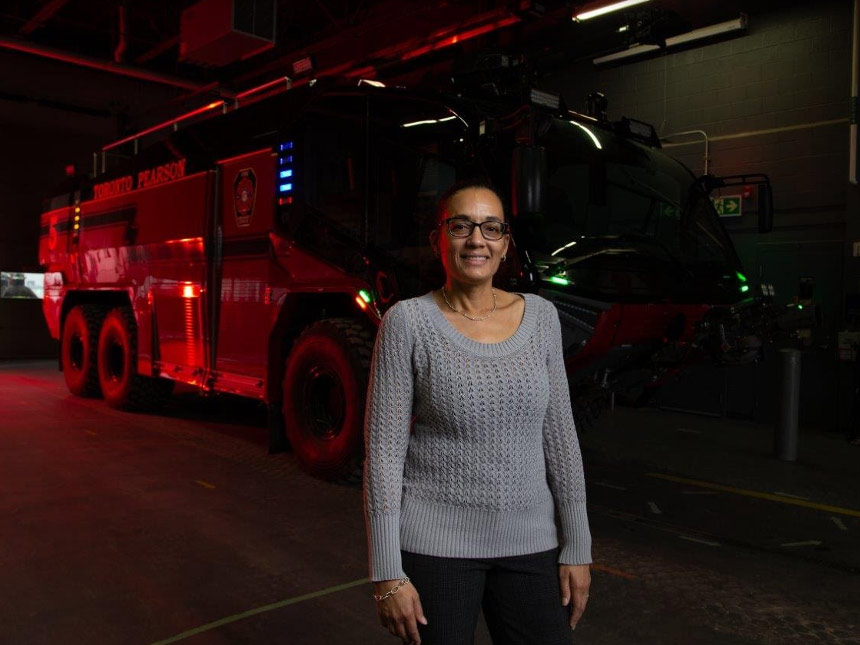 Carey Greenidge: Manager of Finance and Student Services
Career highlight: Obtaining my professional accounting designation, paved the way for a rewarding and progressive career providing financial management support to operations in the municipal sector, telecommunications and media industries.
Specializations: Ensure the integrity of information through best practices.
Favourite thing about FESTI: As a finance professional, putting out fires is a daily task. Nothing beats coming into work through live fires and smoke-filled buildings and seeing students' dreams being fulfilled. I have the pleasure of seeing K9 units in action, witnessing family and friends' pride and joy at graduation, seeing drones flying overhead and occasionally watching a film crew. The action never ends.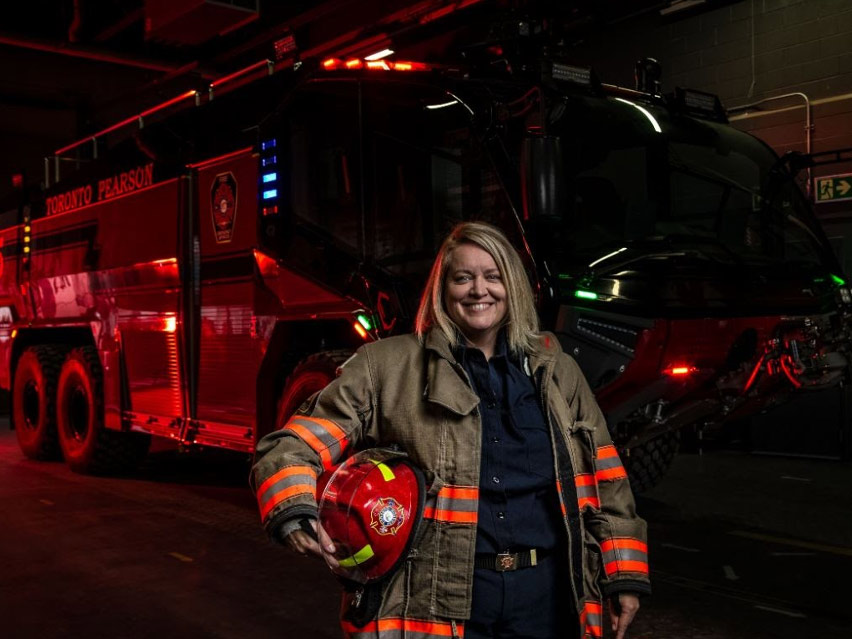 Kelly Holden: Dean of the Faculty
Career highlight: I am honoured to lead this team of exceptional individuals. I am committed to the ongoing growth of FESTI, and the success of our Instructors, students, and partners. I cannot wait to see what the next chapter brings for FESTI in the future.
Specializations: Online learning, EQi, Crucial Accountability, leadership and team dynamics.
Favourite thing about FESTI: Every day is different at FESTI, I love the excitement.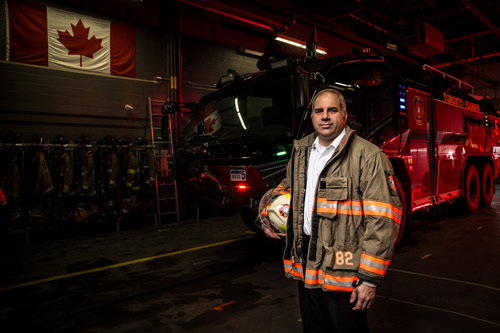 David Hollett: Deputy Fire Chief, Operations
Career highlight: Spending the last two decades in a variety of emergency service portfolios and to be able to bring that experience that I have learned to the next generation of emergency responders at Toronto Pearson International Airport and to new students of the fire service.
Specializations: Emergency management, leadership and team dynamics.
Favourite thing about FESTI: It is an incredible opportunity to be involved as part of the leadership team of one of the best firefighting schools in Canada. To have a fire service at one of the world's busiest airports working together with FESTI gives our students access to staff with a perspective unlike any other.
Theresa Marinier: Captain, Fire Training Officer
Career highlight: Assisting with medical care during Hurricane Katrina. Coordinating the public access defibrillator program at Toronto Pearson International Airport. Increasing the survival rate from sudden cardiac arrests. Formerly a medical professional with the Department of National Defense, I joined FESTI in 2004.
Specializations: Emergency Medical Response, Mental Health Training, First-Aid.
Favourite thing about FESTI: It's what the students benefit from. Knowing that what we mentor and coach them with, will be used one day to potentially save a life; we are setting them up for success.
Milan Popara: Lieutenant, Fire Service Technician
Career highlight: I have been employed at FESTI for 10 years. I am a technician for various equipment and a qualified MSA technician. I ensure all equipment, including non-power items like axes and ladders, are properly maintained to keep students safe.
Specializations: Maintenance and testing of all equipment.
Favourite thing about FESTI: I love working at FESTI and the GTAA, it is a great company that takes care of its people; working here has given me and my family many opportunities.
Leonard Sanders: Division Chief Planning and Support
Career highlight: I began my Fire Service career in 1990 and still recall the highlight being the day I first received the offer for the position of Fire Fighter. The exhilaration I felt that day is the one thing all emergency responders share. I have been privileged to be part of such a great career.
Specializations: Aircraft Rescue Fire Fighting, Medical Training, Leadership, Incident Safety Officer and Program Development
Favourite thing about FESTI: My favourite thing about FESTI is seeing the excitement and enthusiasm the next generation of fire fighters are bringing to the Fire Service. At FESTI it is not only our role to educate it is also our responsibility to inspire.
---
Hear From Our Students

Meagan, March 2020
"Recently graduated from the 4 week blended program at FESTI. The 4 weeks of practical training was absolutely amazing – especially week 3 of live fires. The facility itself doesn't compare to anywhere else. The staff were extremely helpful and were constantly going above and beyond for us. I would highly recommend FESTI."

Aaron, March 2020
"When I walked through the doors of FESTI I had no idea what I was in for. After 4 dynamic weeks of battling through cold winds and burning buildings I have walked away with a group of friends that feel like family and all of the skills and knowledge for the next big step. I need to thank all of the incredible instructors, my amazing team and my family. Most of all I want to thank Diana. She pushed me to go after something that I never thought I'd be able to do and supported me the entire time. Thank you."

LeeAnn, August 2019
"Loved my experience at FESTI, I was in the blended class that finished mid July. I did a lot of reading up on the schools in the area, what they had to offer and success rate post grad and FESTI definitely passed with flying colours. The instructors, the atmosphere and especially the facility is incredible for what you need in preparing you for a career as a Firefighter. Highly recommended!"

Katrina, August 2019
"Recruit class of the department I got hired on was practically identical to the training we received at FESTI. The institute prepared me very well for my career."

Rodrigo, August 2019
"I attended the FESTI Blended that started June 2019 and it was a great experience! The facility is very student friendly, with a bay where you can come in early to practice skills before class. The instructors are clearly passionate about firefighting and that makes for great teachers – they are able to push you to do your best but also understand that you are still learning. A great bonus is the student mentors they have on the grounds, past students who assist in helping current students learn and are an amazing asset to the faculty. FESTI left me with a confident feeling and has given me the foundation I was looking for in a career as a firefighter!"

Devon Jones, August 2017
"My favourite FESTI memories are all people related. I really enjoy the camaraderie that came with being a student here. There are lots of people here supporting and willing to help you advance, and who want you to succeed. It's a very encouraging atmosphere."

Matthew Citta, February 2014
"One of the big reasons I chose to go to FESTI was because of word of mouth. A lot of people were talking about how great the program was. The facilities are second to none and the instructors are top notch. I knew that there were programs in the U.S., but I wanted to go to school in Ontario because that's eventually where I wanted to work. I established a great social network and made connections that would help me with my goal of becoming a firefighter."

Jen Gould, February 2012
"I feel like I grew so much from being at FESTI and a big part of me feels like I was born and raised as a firefighter at FESTI. I really credit my FESTI education to the reason why I was successful in becoming a firefighter. The name FESTI is so well respected by so many fire departments that it really stood out on my resume. The paramilitary environment, the dress and décor, how the classroom runs — the general fire hall environment — ingrained everything in me from the start."
Hear from a former FESTI student and mentor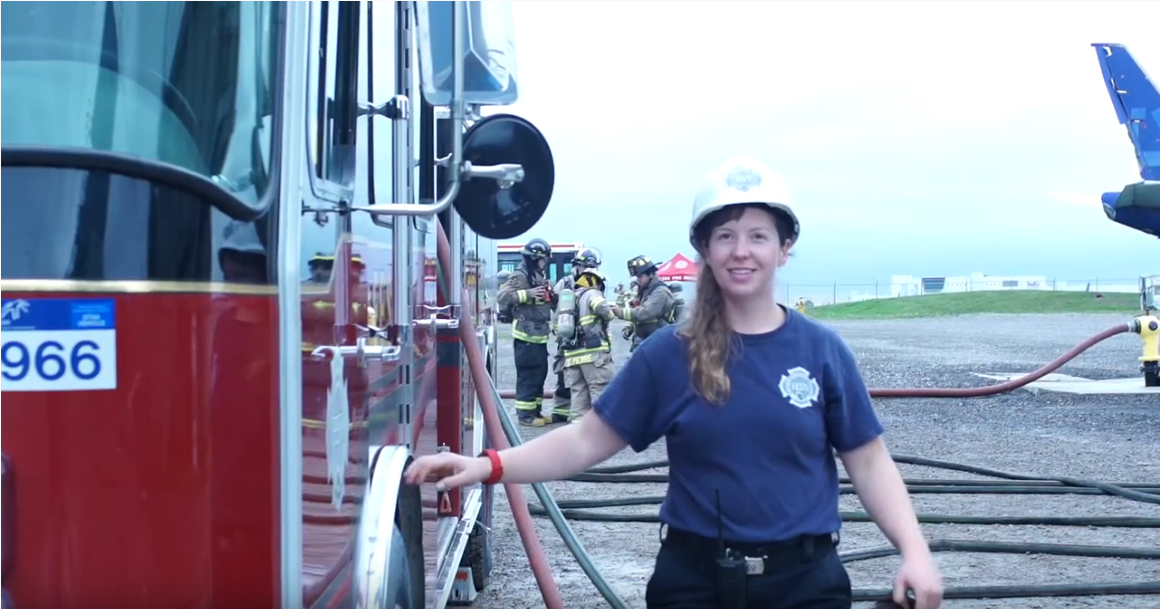 Pagination here