NFPA 1001 Level I-II Firefighter Training Program – Blended
New to firefighting? Let FESTI help you rise further. This one-of-a-kind program offers an exciting learning opportunity that's flexible to your schedule, so you can build a rewarding new career without disrupting your life. Get top-quality resources online before heading into practical, in-class training, where you'll learn from the best.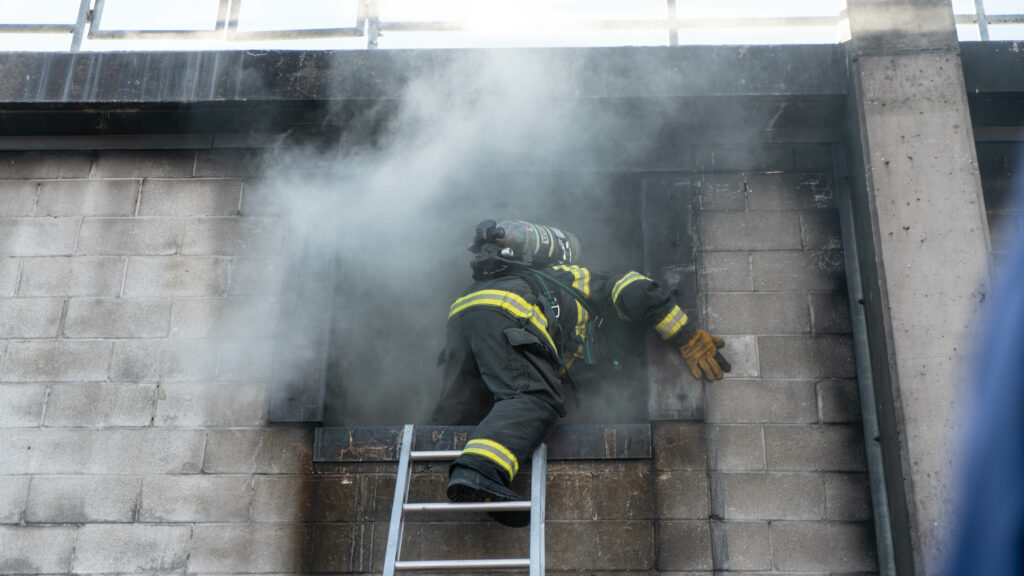 Program Details:
This program consists of the same academic excellence and rigor as our NFPA 1001 Level I-II In-House Program; however, your theoretical learning experiences are self-paced over a four-month period. After the completion of the online theory, you will come onsite to FESTI and complete 20-days of intensive practical skills training.
The online course is delivered through our Learning Management System and is made up of 3 courses, which include:
Reading materials
Videos
Individual assignments
Lesson quizzes
Mid-term exam
Final exam
The practical component is delivered on-site within our sophisticated training facility and fire ground, where you learn by doing over a four-week period. You'll work with the same professional fire instructors who train our own firefighters. As well, we have an extensive, associate instructor program, comprised of over 80 professional firefighters, officers and subject-matter experts with you day in and day out to make sure you are safe and effective.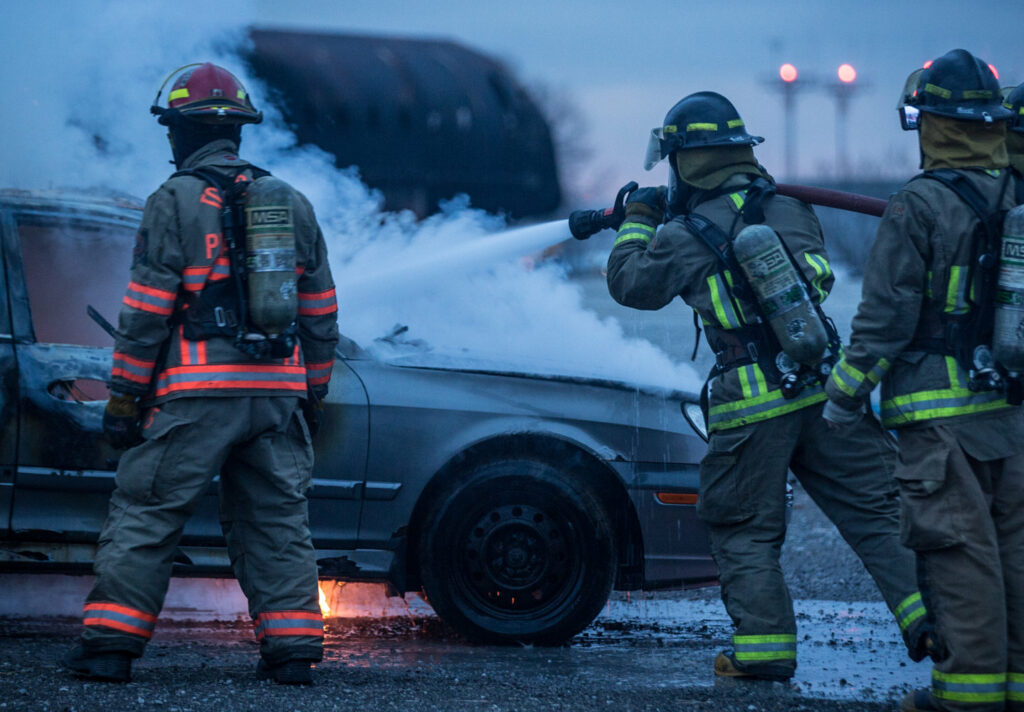 Requirements & Qualifications:
Minimum program application requirements:
Ontario Secondary School Diploma (OSSD) or equivalent, OR pass a qualifying Canadian Adult Achievement Test
Standard First Aid with Level "C" CPR with AED, issued by a recognized provider (must be valid for the entire duration of the course)
Completed Medical Form
Special Note(s):
* Meeting minimum eligibility requirements does not guarantee an offer of admission.
** Our Blended in-person course runs for four (4) weeks, Monday – Friday, 08 AM – 4:00 PM.
*** 18+ years of age is the minimum requirement to apply to a firefighting job.
Special Considerations:
Entering the vocation of firefighting is a very competitive process and different departments and municipalities have different entry requirements. FESTI recommends that you familiarize yourself with the entry-to-practice requirements for any department or private organization you apply to.
To be eligible for consideration for employment in a fire department within the Ontario fire service, the following may be required:
Possess visual acuity uncorrected to 20/30 in each eye without corrective lenses
Have a normal colour vision – passes Ishihara Test acceptable – passes Farnsworth D-15
Have depth perception and peripheral vision that is safe for firefighting
Have prescribed normal unaided hearing – hearing thresholds no greater than 30 decibels in each ear at 500 Hz, 1000 Hz and 2000 Hz, and no significant loss in higher frequencies
Meet medical standards free of Acrophobia and Claustrophobia
Although a class DZ Ontario driver's license is not required for the program, it is required for employment with an Ontario Fire Service. Contact the Ontario Ministry of Transport for further information on obtaining the license.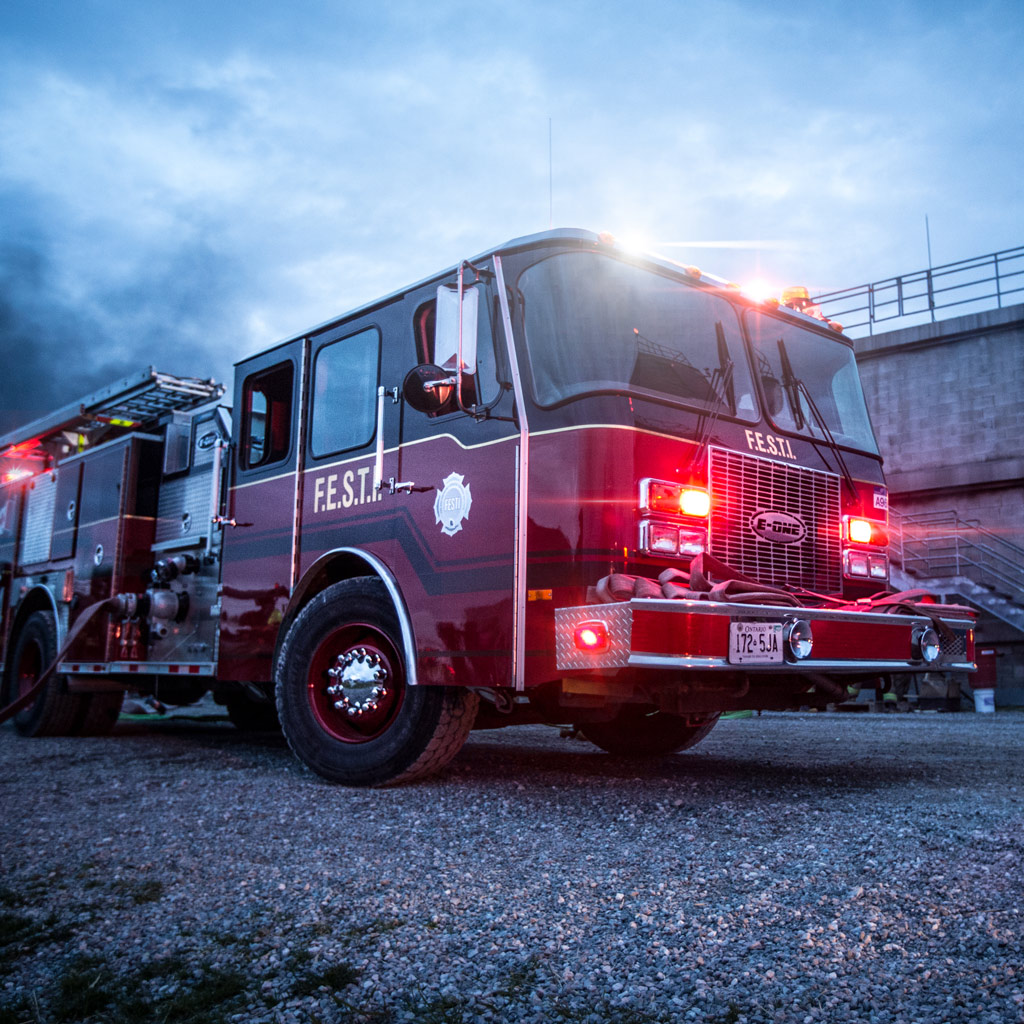 While FESTI does not require medical screening or assessment for applicants to our programs, we do recommend you review these requirements and consult a physician for eligibility. Furthermore, due to the strenuous physical demands of the firefighter, it is strongly recommended that applicants acquire and maintain an advanced level of physical fitness including cardiovascular and upper body strength prior to the start of the program
Program Includes:
NFPA 1001 – FFI and FFII Course
NFPA 1072 – Awareness and Operations Course
FESTI Uniform
Course Materials
Personal Protective Equipment (Yours to Keep)

Helmet
Flash hood
Firefighting Gloves
Rope Rescue Gloves
Firefighting Boots

Firefighter Protective Clothing: Bunker Gear Pants and Coat – Rental
Ontario Fire Marshall (OFM) exam fees

NFPA 1001 Firefighter Level I
NFPA 1001 Firefighter Level II
NFPA 1072 Hazardous Materials Awareness
NFPA 1072 Hazardous Materials Operations

Mandatory orientation day
What's NOT included:
Meals
Accommodations – there are no onsite room/board facilities at FESTI
You will be required to purchase your own Black CSA-approved safety boots to be worn onsite at FESTI

Required reading material & textbook throughout your asynchronous phase (online) and further for your in-house studies:
Optional material:
Graduation Requirements:
To graduate from this program, a student must attain a minimum of 70% average and complete all required practical skill signoffs.
Your Achievements
After successful completion of the program, you'll have the basic knowledge and practical skills that make you firefighting ready, and you'll have a full understanding of the discipline required, as well as the kind of dedication and professionalism that fire chiefs and fire officers look for in a recruit firefighter.
During the final week of the program, you'll take the Office of the Fire Marshal's (OFM) Provincial exam and practical skills assessment which is proctored at FESTI. Upon successful completion, you'll receive IFSAC Seals and an application for Pro Board Seals in recognition of your having achieved the:
NFPA 1001 Firefighter Level I
NFPA 1001 Firefighter Level II
NFPA 1072 Hazardous Materials Awareness
NFPA 1072 Hazardous Materials Operations

Additionally, you receive Internationally recognized Accreditation from the Institution of Fire Engineers.
Program Costs
Non-refundable application fee: $150 *
* Note: all transfers are subject to an additional $150 processing fee; transfers are approved as a function of availability; transfers will be subject to a total program cost adjustments as the total program cost is subject to change.
Total program cost: $8,905.07 ** and it includes HST, certification exam fees, firefighting gear, structural firefighters protective clothing rental, uniform and course materials.
** Note: total program cost is subject to price changes which may also affect your transfer process.

Additional Note(s):

FESTI is not an OSAP approved education institution.
For our Blended program, we offer the split-payment option [two equal payments, at 50% each], or a one-time payment due 30 days prior to your online start date.
You will be required to purchase your own black CSA-approved safety boots – approx. cost $100-$150
Scheduled Dates
Note: For returning applicants who want to check the status of their application please log in to your FESTI account to check the status of your vocation application. It is the fastest way to confirm your application status instead of calling in your status application questions.
Special Note(s):
Seat availability information (i.e., seat(s) open) is updated as often as once per day [

last update

: Wednesday, 22 November 2023 ].
Site orientation information will be shared with you as part of your transition from asynchronous to the in-house phase by your Lead Instructor via a welcome message.
Our plan for the training year 2024 as far as the Blended program is as follows:
Course Serial
LITMOS (online) Start Date
In-house Training Start Date
Graduation Date
Seat Capacity
24-02-01 | 02
Thursday, October 26, 2023
Monday, February 26, 2024
Friday, March 22, 2024
25 | [sold out]
24-02-03 | 04
Wednesday, November 29, 2023
Tuesday, April 2, 2024
Monday, April 29, 2024
25 | [sold out]
24-02-05 | 06
Wednesday, January 03, 2024
Monday, May 6, 2024
Monday, June 3, 2024
25 | [sold out]
24-02-07 | 08
Thursday, February 08, 2024
Monday, June 10, 2024
Monday, July 8, 2024
25 |

[released]

24-02-09
Wednesday, March 13, 2024
Monday, July 15, 2024
Monday, August 12, 2024
25 | [released]
24-02-10
Tuesday, April 16, 2024
Monday, August 19, 2024
Monday, September 16, 2024
25 | [pending release]
24-02-11 | 12
Thursday, May 23, 2024
Monday, September 23, 2024
Tuesday, October 22, 2024
25 | [pending release]
24-02-13 | 14
Thursday, June 27, 2024
Monday, October 28, 2024
Monday, November 25, 2024
25 | [pending release]
Blended Program Training Year 2023 – 2024
Let us help you Rise Further
Get started with FESTI today
Pagination here