Aircraft Firefighting Training Programs at FESTI
Estimated reading time: 3 minutes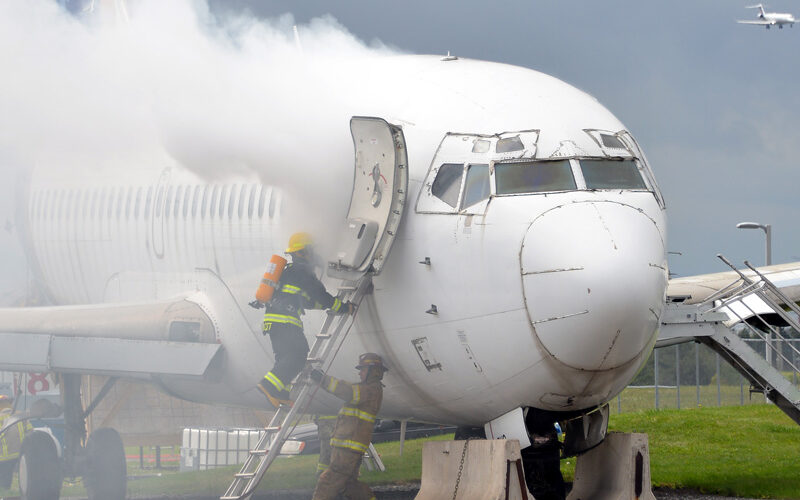 The Fire and Emergency Service Training Institute (FESTI) at the Toronto Pearson International Airport offers accredited programs and courses for aircraft firefighting training. FESTI is part of the active fire service at Pearson, providing training by active ARFF members.
Our unique location at Canada's largest airport offers all students the access to state-of-the-art equipment and resources to learn the proper techniques of aircraft emergencies. The best firefighter training programs have real-life active fire scenarios for learning and upgrading skills. FESTI offers a wide selection of training facilities to meet ARFF needs.
About Aircraft Rescue and Firefighting (ARFF)
Aircraft rescue and firefighting (ARFF) involves specialized rescue and firefighting services for aviation situations, incidents, and emergencies. ARFF services encompass emergency response, mitigation, evacuation, and rescue of passengers and crew of any type of aircraft.
With high risk of incidents on the grounds and within an airport, it is imperative every fire service is employed with highly skilled and trained firefighters. The equipment and products used need to be in prime condition for emergency situations.
Who Is Eligible for ARFF Training?
Depending on the specific ARFF training program, candidates may need to acquire the NFPA 1001 Fire Fighter II certification or equivalent such as Ontario Firefighter Curriculum, Pre-Service or International Equivalency. While some courses require candidates to be currently employed as an airport firefighter, there may not be a prerequisite for other programs.
Benefits of FESTI's ARFF Training Courses
Whether you are new to firefighting or have been upgrading your firefighter skills for years, FESTI offers a world-class facility to support programs taught by highly trained and experienced instructors. Our ARFF training programs offer:
Fire behavior training specific to airports and aircraft
Understanding the characteristics of aviation fuels
Strategy and tactics for emergencies
Rescue and post-incident operations
Operation and characteristics of ARFF vehicles
Knowledge and use of extinguishing agents and foam equipment
Maintaining extinguishing agent supply and replenishing apparatus
Extinguish wheel/brake, engine, cabin and fuel spill fires, including 3-D fires with hand lines
Extinguish fires utilizing ARFF vehicles, including a 456 m2 (5,000 ft2) fire
ARFF Training Facilities Available at FESTI
Our ARFF training facilities are part of a LEED silver rating for an environmentally responsible building. FESTI offers state-of-the-art equipment and training facilities for all of our fire and emergency response programs such as:
Confined space building
Rescue tower
Burn building
Aircraft training mock-ups
Auto extrication area
Machine rescue area
Hazardous materials training site
Trans Canada rail car CCPX 911

The ARFF Training Registration Process
Choose FESTI for your aircraft rescue firefighting training in Canada. As a private training college, we are recognized as a world-class leader in training programs for emergency services, occupational health and safety, and airport emergency preparedness.
In conclusion
FESTI offers a variety of ARFF training programs. Upgrade your training and skills by enrolling in Radio Procedures, Airport Fire Fighter Professional Qualification, ARFF Awareness for Structural Firefighters, Airport Firefighter I.A.W. CARs 323.14, ARFF Recertification 1 Day, ARFF Recertification 2 Day, and ARFF Vehicle Service Course and Test.