FESTI's Blended (Online + Onsite) Firefighter Training
Estimated reading time: 3 minutes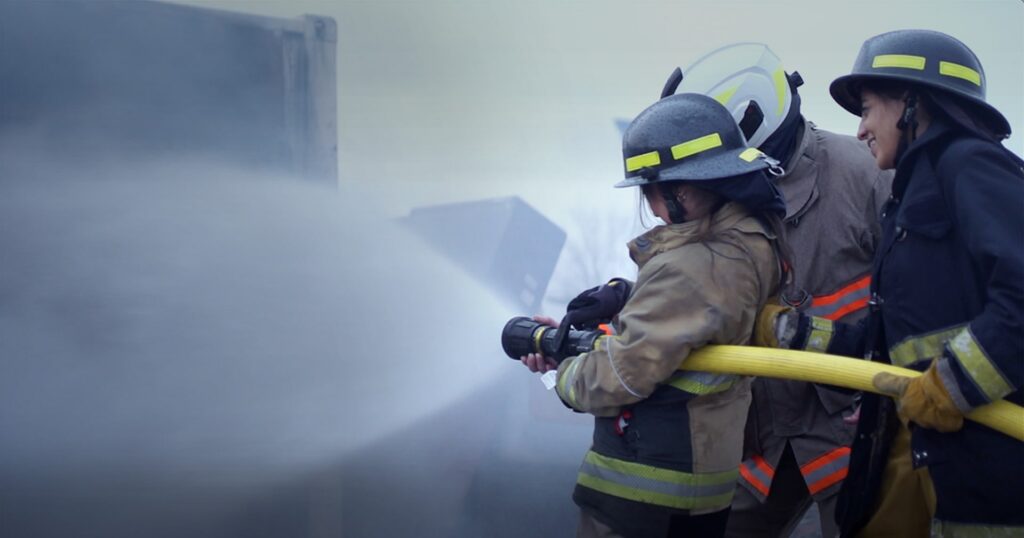 For those wanting to take online firefighter training, the Fire and Emergency Services Training Institute (FESTI) offers blended online/onsite programs.
Our Blended (Online) Firefighting Training for Professional Development
Completion of FESTI's online firefighter courses prepares a candidate for the OFM Provincial Exam and practical skills assessment to obtain the International Fire Service Accreditation Congress (IFSAC) Seals. Furthermore, successful completion of our blended firefighter programs provides accreditation from the Institution of Fire Engineers and application for Pro Board Seals.
NFPA 1001 Level I and II Firefighter Training Program
The blended NFPA 1001 Level I and II Firefighter Training program follows the same academic teachings of our onsite program but at-home over a four-month period. Once the theoretical portion is successfully completed, the candidate will have intensive hands-on practical training at our facility. Over a four-week period, candidates will train with live active fire scenarios, search and rescue, auto-extrication, and handling flammable liquid fires.
Standard First Aid, CPR Level C, and AED Training
Our Standard First Aid, Level C CPR and AED training is offered over a two-day program for any active emergency responders who are first on the scene of an emergency. Adhering to the latest first-aid and CPR regulations, candidates will learn basic medical support, injury prevention, and proper use of automated external defibrillators.
NFPA 1021 Fire Level I Officer Training
Senior firefighters are eligible to enroll in our NFPA 1021 Fire Level I Officer Training program. Recognized by the OFM and the Ontario Association of Fire Chiefs (OAFC), this blended online/onsite course offers a theoretical portion followed by a mandatory five-day practical training portion.
NFPA 1041 Fire Service Instructor Level I Certification
Our blended NFPA 1041 Fire Service Instructor Level I certification is offered for those who yearn to help others become part of the company of firefighters. As a blended online/onsite program, candidates will be granted two months to complete the theoretical portion of the course. The practical skills training and testing is completed over two-days onsite at FESTI facilities.
Aircraft Rescue Fire Fighting (ARFF) Course
FESTI offers the Aircraft Rescue Fire Fighting (ARFF) course under the direction of the Canadian Aviation Regulations 323.14. Designed for all levels of firefighting services, this program includes firefighter safety, fire behaviour, extinguishing agents, PPE, communication, airport preplan, airport and aircraft familiarization, and apparatus use.
During the five-day practical training at FESTI, candidates will respond to fire and rescue scenarios. Once the training and assessment period is complete, candidates will receive certification endorsed by the Canadian Branch of the IFM.
What Are the Online Firefighter Learning Requirements?
For all online and/or blended FESTI courses, the following requirements must be met:
Internet access
Mac or PC
Web browser
Email
Software of word processing and presentation software
Hardware of colour or black and white printer and scanner
Get in Touch to Learn More About our Firefighter Training Programs
If you are ready to receive your online firefighting certification programs through FESTI, contact us for registration or any questions and/or concerns.