Mastering the Maze: Navigating Complex Industrial Firefighting Scenarios
Estimated reading time: 4 minutes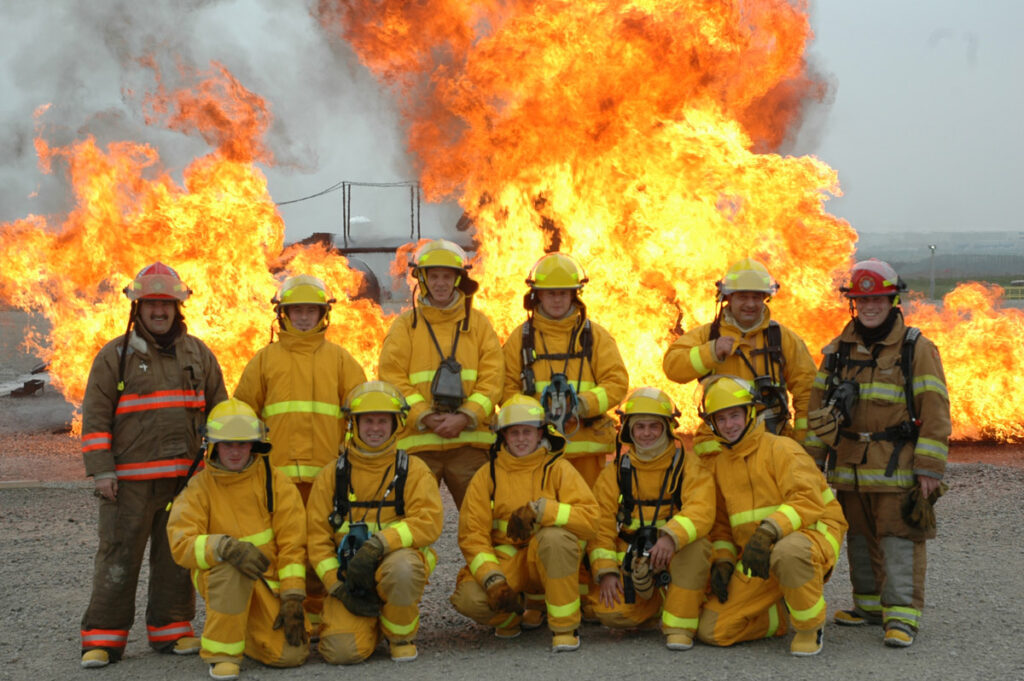 Industrial firefighting involves complex firefighting scenarios that command the very best of firefighter training for the health and safety of all involved.
Most industrial businesses and organizations have a dedicated team of firefighters trained in combating high hazardous fires in multi-level buildings with confined spaces. An industrial fire scenario occurs in any business facility such as a manufacturing complex that uses, stores, and/or produces hazardous chemicals and fuels.
Challenges in Industrial Firefighting
Much like any other fire situation, industrial fires present a unique set of challenges. Below are some of the most common challenges fire personnel deal with.
Industrial Infrastructure and Layout: As industrial settings often have multi-layer and multi-level layouts, industrial firefighters must be able to navigate the vast spaces, including confined areas, during an emergency response. 
Specialized Equipment and Suppression Techniques: With the presence of chemical waste, hazardous waste, and combustible fuels in business settings, industrial firefighters must have access to specialized equipment. Having proper training for use of said equipment and suppression techniques can be the difference between life and death.
Electrical Systems and Power Hazards: Industrial firefighters have to contend with high voltage electrical systems that lead to power hazards during any form of an emergency response. Understanding how to tackle these situations with the proper equipment can introduce new challenges as technology changes.
Chemical Management and Hazardous Materials: The management and suppression of fires due to the chemical components of the hazardous materials requires constant education and training in the identification of such materials.
Team Coordination and Incident Command: During an emergency response to an industrial fire or situation, the firefighters face communication challenges as various resources are key in the management of a response. 
Continuous Training and Preparedness: As no two industrial fires are the same, it is pertinent that all firefighters and counterparts are adequately trained and prepared for any and all fire and rescue-related scenarios. Continuous training through education is crucial.
The Role of New Technology in Industrial Firefighting
Firefighting strategies can only improve by integrating the latest technology into training for industrial firefighters.
Drones
The use of drones in emergency response is the perfect example of how advanced technology can be used to save lives and property. Special equipment drones have the ability to combat dangerous fires where hazardous chemicals and toxic fumes restrict firefighters. Drones also give industrial firefighters the advantage of accessing aerial imagery that can improve firefighting.
Robotics
Extensive training, knowledge, and resources cannot always protect the health and safety of industrial firefighters. Use of robotics to replace the firefighter in extremely hazardous situations is becoming increasing popular in various departments. With sensors to detect smoke, heat, fire, and the presence of unseen human beings, robotics are the best choice to send into complex scenarios. 
Augmented Reality
Augmented reality technology has been used in everyday settings and has become a gamechanger in fire rescue. AR thermal vision cameras can be a lifesaving tool for industrial firefighters in low vision fire situations. To enhance the safety of the firefighters, specialized AR technology has been developed for such scenarios.
Artificial Intelligence
The continuing advancement of AI in firefighting is significant. AI has the ability to analyze the behaviour of a fire before it begins to spread. Training industrial firefighters to use various AI tools introduces new strategies to save time and lives.
Essential Certification Training Required for Industrial Firefighters
The Fire and Emergency Services Training Institute (FESTI) offers extensive training and certification for firefighters of all fields and industries. We offer several industrial firefighter certifications for new and veteran members.
NFPA 1001 Level 1 and 2
New firefighters can begin their training and certification with this course offered in-house and online. The NFPA 1001 Level 1 & 2 involves use of FESTI's unique training facilities with active fire scenarios, search and rescue, firefighting survival, ladder drills, and auto extrication.
Hazmat Training
FESTI offers several training programs for hazmat training in response to emergency situations. We have the Hazardous Materials Officer Program, Hazmat Scene Management, CBRNE Hazardous Material Awareness, NFPA 1072 Hazardous Materials Operations, NFPA 1072 Hazardous Materials Awareness, and NFPA 1072 Hazardous Materials Technician.
Confined Space Rescue Training
This course uses practical training to address hazards of rescue in confined spaces. FESTI offers the Basic Industrial Confined Space Rescue, Confined Space Entry Certification, and Confined Space Entry Recertification.
Standard First Aid, CPR Level "C" with AED
This two-day certification program is for the responders first on the scene of an emergency. The Standard First Aid, Level C CPR and AED involves training and use of real-world tools and equipment.
Emergency Medical Responder (EMR)
The EMR program gives practical assessments and interventions for proper patient care from a firefighter or other emergency responder.
Enroll in Our Specialized Industrial Fire Fighter Training Courses Today!
Contact FESTI to enroll in our industrial firefighter training programs and accreditations. We are located at Toronto Pearson International Airport as we are part of the fire service onsite. Check here to access more details on our training college. To learn more about our courses, contact us today by filling out the form here.
---