Auto Extrication Training: The Lifesaving Skill Every First Responder Must Have
Estimated reading time: 5 minutes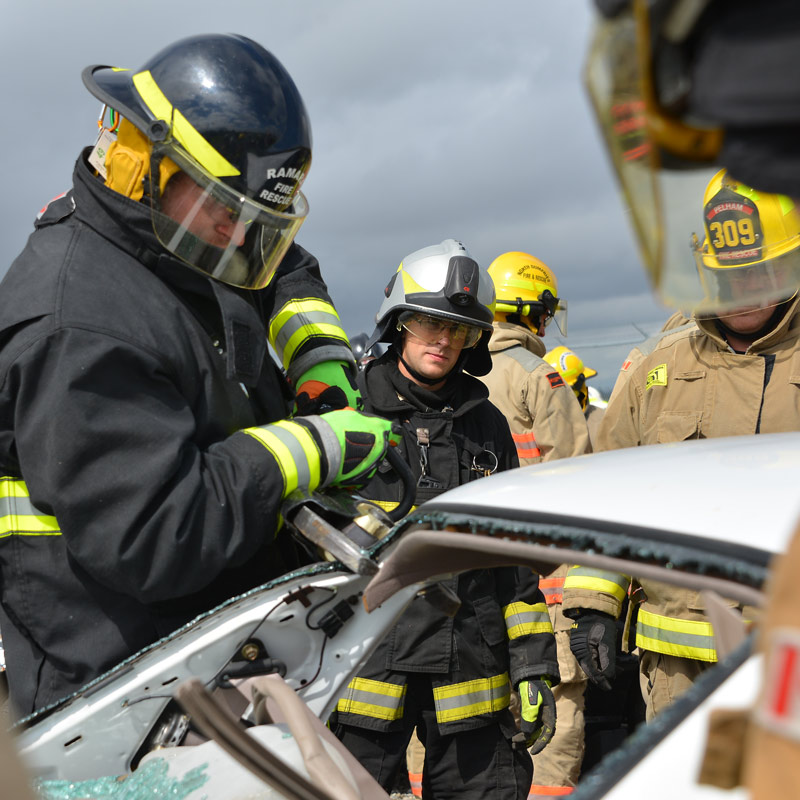 First responders training involves extensive auto extrication training. Auto extrication is the process of removing a vehicle, or its components, from around a person who is trapped within the vehicle due to a collision. This process is done with tools, equipment, and precise skills to minimize any further injuries to the occupants.
Key Steps in Auto Extrication Rescue Missions
Vehicle extrication involves several key elements that require accurate observance for a successful outcome. 
Access the scene
Wear appropriate PPE
Create a safe working environment
Prepare necessary tools
Stabilize the vehicle
Disable the vehicle power
Be mindful of undeployed airbags
Start first aid if needed
Devise extrication plan
Protect patient from extrication hazards
Practice safety
Common Auto Extrication Rescue Mission Challenges
With a motor vehicle extrication, there are common challenges that need to be met to ensure the scene is secure and the victim is safely removed from the vehicle.
Access: The location of the vehicle may pose a challenge if it is on a steep embankment, an alleyway, on the side of a busy highway, or in a waterway. Safety of the responders and equipment is paramount before any rescue begins.
Vehicle Stability: Unless the vehicle is sitting upright, the positioning of the vehicle may pose hazardous scenarios. There are a variety of heavy equipment tools that can be used by firefighters to stabilize the vehicle to prevent it from moving during the extrication.
Entanglement: The safety features of the vehicle may cause the person(s) in the vehicle to become entangled and hinder quick rescue. Airbags and seat belts are designed to protect the occupant during a motor vehicle accident or collision and as a protection after the vehicle comes to a full stop. This is when the basic methods of manipulative extrication, disassembly, cutting, and forcing are used.
Hazardous Materials: The vehicle(s) involved in a collision or accident may contain hazardous materials. These can involve gasoline, diesel, battery acid, natural gas, hydrogen gas, and/or a combination of these. Exposure to hazardous materials can increase the risk to the vehicle occupants and first responders.
Time Pressure: In dealing with auto extrications, time is often of the essence. Collisions and accidents that require the use of extrication tools also require quick work by responders, often in risky environments.
Collaborating with Other Responders: At the scene of a motor vehicle accident, there are a number of first responders, such as fire, police, EMTs, and other emergency personnel. Everyone has a specific role to play in auto extrication.
Weather Conditions: A huge challenge with most extrication rescues is the current weather. Rain, snow, ice, and wind can have an impact on the ability of the first responders to perform auto extrication. Severe weather can hamper efforts and slow down the process.
Why Auto Extrication Training Is Essential for First Responders
An auto extrication rescue may be needed at any time in any locality, whether it's a rural or an urban centre. Every first responder requires proper training to perform such a job. Learning and understanding the required equipment used is vital before any first responder can be expected to be involved in an auto extrication.
In addition to the fire service tools, firefighters need to be familiar and comfortable with the ever-changing technology of vehicles. With the knowledge of auto extrication rescues and the vehicle technology, a first responder has the capability to perform the essential duties of the job.
How Firefighters or First Responders Can Improve Vehicle Extrication Training
Firefighter training for vehicle rescue scenarios needs to be a critical part of every department's budget. On-going training for veteran first responders is just as important as it is for new recruits.
Regular Training: Regular auto extrication training must involve updated material for all equipment and possibly rescue scenarios.
Hands-on Practice: Once the academic skills are obtained, it is time to put the learning to use with hands-on practice.
Multi-Agency Exercises: As first responders do not work alone, practical training involving a variety of emergency responders, paramedics, police officers, and other fire departments need to be combined.
Training on the Latest Technologies: From communication to extrication tools, all firefighters are required to be fluent in the managing and use of the latest technology.
Evaluating Training: Training is basically practice routines which should be evaluated from beginning to end to find needed improvement areas.
Continuous Learning: Whether a firefighter has been on the job for five months or 30 years, ongoing training and continuous learning is part of the position.
How Can FESTI Help First Responders with Auto Extrication Training?
The Fire and Emergency Services Training Institute (FESTI) offers a world-class NFPA Auto Extrication Course, which requires NFPA 1001 Level 1 & 2 certification. This practical and hands-on course is provided by qualified instructors on the FESTI grounds at Toronto Pearson International Airport.
Our course involves scene safety, outer/inner circle check, stabilization/cribbing, glass management, purchase points or insertion points, door removal, side removal, third door conversion, roof removal, roof flap, dash displacement, and golden hour & ten life cycles of auto extrication.
Learn Auto Extrication from the Experts at FESTI – Register Today!
The Fire and Emergency Services Training Institute (FESTI) offers training programs for certification at our private career college. In addition to being a firefighter academy, we also offer corporate training and team building programs for all first responders.
Let us help you rise further with our NFPA Vehicle Extrication Training course. Register for a course or program by clicking here and completing the webpage registration. Or for more information about FESTI, contact us today.