How to Reduce Firefighter Line of Duty Deaths and Accidents
Estimated reading time: 5 minutes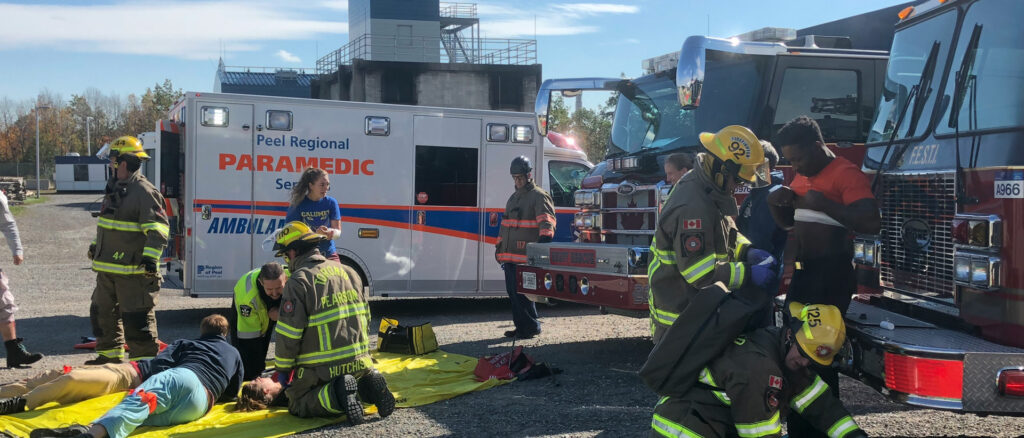 Firefighter accidents unfortunately are part of the risk of becoming a firefighter. The National Fire Protection Association (NFPA) standards are followed in Canada under the Office of the Fire Marshall in Ontario. Their findings of firefighter fatalities over the past few decades show that while the equipment and protection measures have improved, the number of deaths and injuries have remained the same.
Recent Firefighter Accidents and Deaths
In Canada, there have been reported firefighter accidents and deaths in every province and territory. Recent incidents involve a Manitoba Wildfire Service member succumbing to his injuries of a live fire and an Alberta volunteer firefighter killed in a vehicle accident while responding to an active blaze.
During the Atlantic Fire Leadership Conference held in the summer 2022, special guest speaker Dr. Robert Krause, a battalion chief from Ohio, presented the findings of his study of 176 line of duty deaths (LODD). His research highlighted that the top reasons of LODD were sub-optimal personnel readiness and inadequate preparation. He stated that the most important lesson is to have overall training for all firefighter personnel.
NFPA Study on Firefighter Deaths by Cause of Injury
The National Fire Protection Association routinely releases information and studies on fire statistics, injuries, and fatalities within the industry. The organization is dedicated to providing updates on fire protection systems, causes of major fires, and other fire-related topics.
The latest NFPA updated study results were released in July 2022. It included data on recent firefighter deaths as a result of injury while on active duty.
| | | |
| --- | --- | --- |
| Cause of Injury | Fatalities | Percentage |
| Overexertion/Stress/Medical | 26 | 54% |
| Rapid fire progress/explosions | 6 | 13% |
| Crashes | 4 | 8% |
| Struck by Vehicle | 4 | 8% |
| Fell | 3 | 6% |
| Structural Collapse | 1 | 2% |
| Exposure to Electricity | 1 | 2% |
| Lost Inside | 1 | 2% |
| Exposure to Heat | 1 | 2% |
Ways to Prevent Firefighter Injuries and Fatalities
Firefighter training focuses on preventing injuries and fatalities by teaching the skills and techniques needed for safety. Becoming a firefighter requires a sense of wanting to help people and putting one's life on the line to help save others.
With the proper training, firefighters learn to respond to active fires and emergency situations with the knowledge and equipment to manage the safety of their fellow chapter members and the public at large.
Training Safety Officer Program
Courses for firefighters do not stop at the end of the class schedule. Firefighters at all levels require specialized ongoing training throughout their careers. While a training safety officer program focuses on the responsibilities of a fire department health and safety officer and/or an incident safety officer, it is necessary for all members to have the right tools.
In-house and on-site training programs are designed to assist career and volunteer firefighters to safeguard personnel safety while making decisions in the best interest of everyone involved.
Taking a Proactive Approach to Fitness
The physical aspect of becoming a firefighter is designed to protect the wellbeing of the firefighter while performing the tasks and duties of the job. Each fire department has its own fitness program/guidelines in accordance with its governing board. In addition to keeping firefighters safe, the physical fitness programs are adopted by departments to reduce the risk of injury and compensation claims.
Using the Right Protective Clothing
Having access and using proper protective clothing, gear, and equipment can reduce the risk of injury and possible death during the fighting of active fires. Firefighters require bunker gear which usually consists of a coat, pants, gloves, helmet, hood, boots, and equipment such as a self-contained breathing apparatus (SCBA). It is crucial that firefighters have the appropriate gear and safety equipment that resists heat stress without inhibiting mobility.
The Importance of Firefighter Training to Prevent On-Duty Injuries and Deaths
Firefighting programs offered at accredited schools and colleges have a responsibility to ensure each graduate has the proper training to prevent on-duty injury and death of themselves and in respect to others. Live fire training is one of the most needed approaches for any form of firefighter training. It is with this type of on-hands situation the firefighter learns to make critical decisions while performing safety measures to stop the dangerous fire.
How FESTI Can Help with Firefighter Training
The Fire and Emergency Services Training Institute (FESTI) offers some of the top accredited programs and firefighter courses in Ontario. We focus on courses, programs, and training certifications to new and current firefighters, emergency personnel, and corporate organizations.
Our NFPA courses are instructed by certified and experienced fire department officials at our main location at Toronto Pearson International Airport. As the country's largest Aircraft Rescue and Firefighting (ARFF) training source, we are the solution for your search for a "firefighter academy near me".
Need more reasons?
We are part of an active fire department with associated training facilities.
We have other college programs use our training facilities.
We offer new and updated courses, programs, and training facilities.
We employee experienced full-time training staff.
We are located in a prime location for training for firefighters and emergency personnel from across Canada and the world.
We can offer customized programs in accordance with the guidelines and recommendations of NFPA standards.
Register for a course or program by clicking here and complete the webpage registration. Or for more information about FESTI, contact us today.
---