How to Become a Fire Investigator in Canada
Estimated reading time: 5 minutes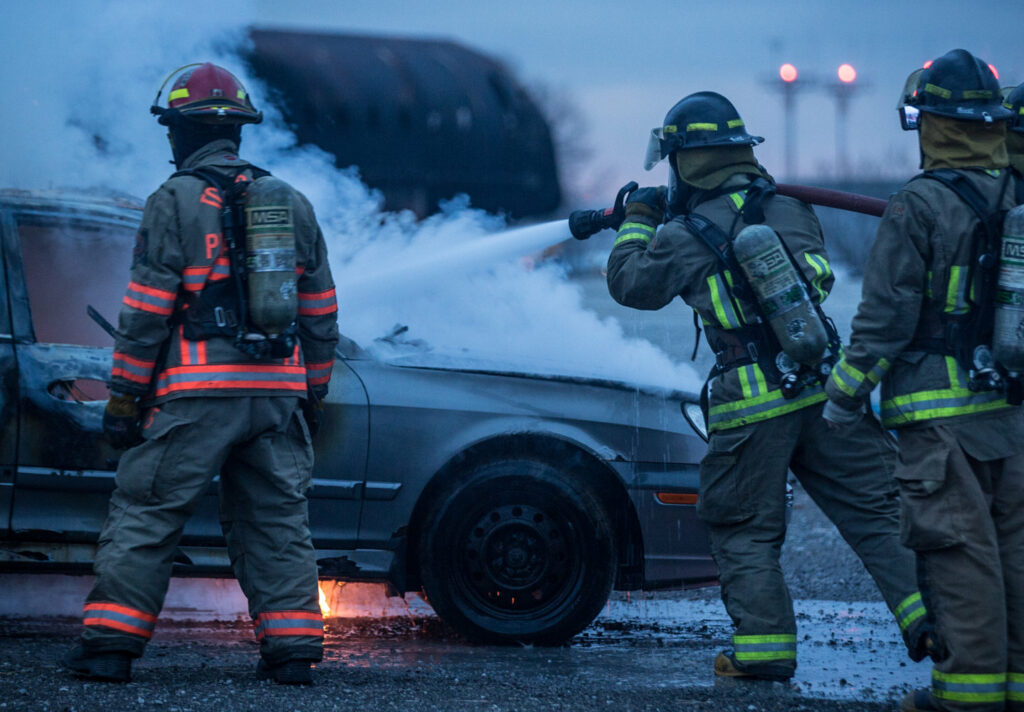 In the career path to become a fire investigator, there are significant factors to consider in relation to the training, education, and skillset for such a career. If you have a unique yearning to understand the science behind fires and how they behave, fire investigation may be the right choice for you.
What Is a Fire Investigator?
A fire investigator is defined as an examiner of the cause of a fire, especially with cases that present a suspicious source. This investigation involves inspecting the crime scene, taking samples, interviewing witnesses, collecting evidence, processing findings, and reporting findings.
Is There a Difference Between an Arson Investigator and a Fire Investigator?
While an arson investigator and a fire investigator share similar goals and evidence collecting processes, the two careers involve different roles. The fire investigator focuses on discovering the cause and origin while an arson investigator delves into finding out who was responsible for the fire. The two positions work closely together in cases where arson is suspected.
What Educational Background Is Required to Become a Fire Investigator?
Most fire investigators begin as a volunteer or full-time firefighter before gaining sufficient experience and training to become a fire investigator. To become a fire investigator, there are no required educational courses. That being said, most fire investigators have professional and educational background in various engineering training such as chemical, mechanical, electrical, or civil.
Steps to Become a Successful Fire Investigator
If becoming a fire investigator resonates with you, there are several steps that you can take to help prepare you for the career.
Complete Basic Education
Every firefighter role requires basic education such as a high school diploma or equivalency. Candidates with secondary education with a degree in engineering, criminal justice, fire science, chemistry, or other bachelor's degree may find fire fighter training easier to comprehend.
Join a Fire Academy
Enrolling and completing courses at a reputable fire academy is another step towards becoming a fire investigator. The reason for taking these type of courses is to be able to better understand the science of fires and learn how to operate under the intense pressure and responsibility. Fire safety for self and others is the ultimate goal.
Most firefighter training programs offer emergency medical technician training and fire service vehicular operations. These courses assist firefighters in all roles, particularly as a fire investigator.
Join a Fire Department to Gain Experience
With certification, the next step is to put the education and training to use with a position with a fire department. The on-the-job experience cannot be matched with the addition of the knowledge obtained at a fire academy. First-hand experience of various roles and scenarios with a fire service can help a fire investigator have a better grasp of the actions of a fire.
Get Fire Investigator Certification Training
There are opportunities to obtain professional fire investigator training with accreditation by a reputable academy. The certification can vary among employers as certain roles require an additional two to four-year fire science program, depending on the extent of the role.
Regular fire investigator programs focus on fire research, analyzations, reporting procedures, fieldwork, and laboratory exposure. These involve fires of the electrical, chemical, forest, motor vehicle, and structure matters. Legal courses are also included in fire investigation training as the role involves working with police, lawyers, and other criminal law professionals.
Apply for a Job as a Fire Investigator
Once you have experience and training as a fire investigator, the next step is to explore job openings. This type of position can be found within fire departments and government agencies. All candidates undergo background and criminal checks, interviews, and potential testing in accordance with local laws. Fire investigator positions can be found in a variety of local, provincial, and federal government environments.
What Is the Average Salary of a Firefighter Investigator in Canada?
In Canada, a fire investigator is paid an average salary of $75,804. This number varies across the country and depends on the employer, location of the job, and experience of the candidate. Initially, a fire investigator's salary can range around $56,100 with veteran positions offering up to $86,490.
How Can FESTI Help You Become a Fire Investigator?
To become a certified fire and explosion investigator, NFPI certification can be obtained through the program at the Fire Emergency Service Training Institute (FESTI). Located on the Toronto Pearson International Airport grounds, we focus on the training and courses associated with firefighter safety and knowledge.
NFPA 921 – Certified Fire and Explosion Investigator
The NFPA 921 Certified Fire and Explosion Investigator course is designed for firefighters, provincial fire investigators, forensic identification members, explosive disposal personnel, CIB detectives, and insurance adjustors.
Through theoretical studies and practical hands-on training, candidates will learn scene examination legalities, basic combustion principles, burn pattern analysis, physical evidence collection methods, fire causes, and motor vehicle fire and explosion investigations.
All Aspiring and Professional Firefighters in Canada Are Welcome
The Fire and Emergency Services Training Institute (FESTI) is a leading fire academy that offers a range of certified fire and emergency services training programs and courses. We are proud to offer live fire training facilities in a state-of-the-art modern environment.
Our private career college is designed with training facilities such as confined spaces, a burn building, a rescue tower, motor vehicle extrication area, and a hazardous materials training site. Our location also allows us to provide practical training for aircraft emergency mock-ups.  Contact us to learn more about our training programs.