How to Become a Firefighter in Canada
Estimated reading time: 10 minutes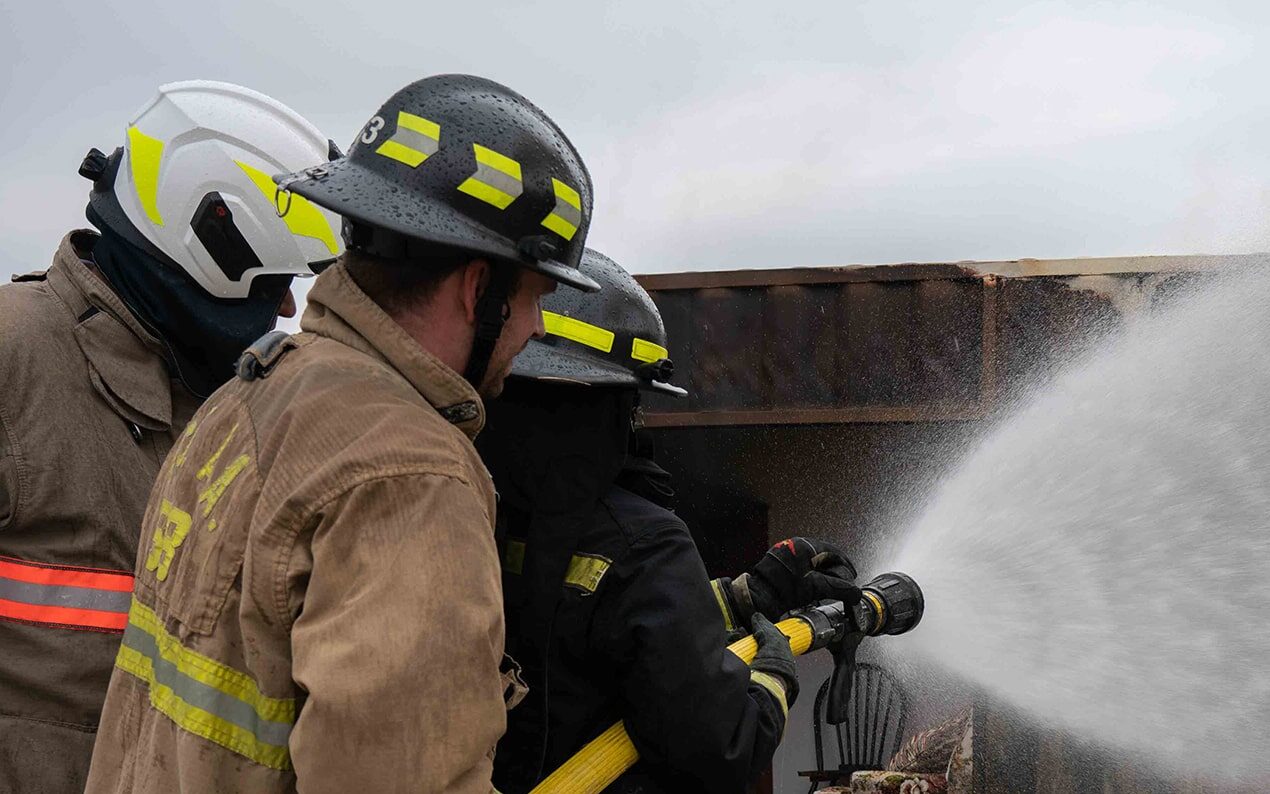 Want to become a firefighter in Ontario? Joining the prestigious team of men and women dedicated to protecting their neighbors is one of the highest privileges you can have. We at the Fire and Emergency Training Institute (FESTI) want to help you!
Firefighters fight fires, attend medical emergencies, perform post-fire cleanup, and educate the public, among other daily tasks. In learning how to become a firefighter, it is important to understand and accept the dedication, training, and education that becomes part of the "job".
Fire Department Ranks in Canada
Volunteer firefighter
Probationary firefighter
Firefighter/EMT
Firefighter/Paramedic
Driver Engineer
Lieutenant
Captain
Battalion Chief
Assistant Chief
Fire Chief
Basic/Minimum Requirements to Become a Firefighter in Canada
18 years of age or older at the time of the application
Legally able to work in Canada
Valid Standard First Aid Certificate, CPR Level HCP
No criminal convictions for which a pardon has not been granted
Pleasure Craft Operator Card
Possess an Ontario Secondary School Diploma (OSSD – Grade 12) or academic equivalency
Valid Ontario "G" class license (* Must have no more than two infractions)
Valid Physical Fitness Assessment
20/30 uncorrected vision without corrective lenses
Normal colour vision, passes Ishihara Test, and passes Farnsworth D-15
Have depth perception and peripheral vision that is safe for firefighting
Normal unaided hearing thresholds no greater than 30 decibels in each ear at 500 Hz, 1000 Hz and 2000 Hz, and no significant loss in higher frequencies
Ability to work rotating shifts, including nights, weekends, and holidays
Work well under high-pressure situations
Meet medical standards free of acrophobia and claustrophobia
Speak, read, and write in English fluently, and communicate clearly and precisely under demanding, high-pressure
Recruitment Criteria for Entry Level Firefighters in Ontario
Pre-Service Fire Fighter Education & Training Program Certificate, or
NFPA 1001 Firefighter Levels I & II from a recognized institution, or
OFM curriculum components 1, 2 and 3 with examination certificate, or
Minimum of two years' experience as a full-time firefighter in a municipal fire department, or
Minimum of five years' experience as a part-time firefighter in a municipal fire department
Class "D" license with "Z" air brake endorsement (dependent on fire department)
Ontario Fire Administration INC. (OFAI) Testing Stages 1, 2 and 3 with Swim Test
Firefighter Services of Ontario Testing
Requirements and Criteria for Becoming a Volunteer Firefighter
While volunteer firefighters may or may not be paid by a municipality, the positions require a different set of criteria. Volunteer firefighters require a valid Driver's License, must be a minimum of 18 years of age, be able to understand and communicate in English and/or French (written and oral), and physically able to perform tasks and duties of the job. Other considerations include being able to commit to scheduled training, live and/or work in the response area, be of sound and positive ethics, thrive in a team environment, and have no convictions of a criminal offense related to the job duties of a firefighter.
Pre-Service Firefighter Education & Certified Training Programs
To be a full-time firefighter, there are certifications and training courses to obtain through the National Fire Protection Association (NFPA). FESTI offers these and other emergency training courses. The training offers real-life experiences in responding and fighting fires and emergency situations, auto-extrication, firefighting survival, search and rescue, fighting vehicle fires, and handling flammable liquid fires. Working on-site with professionals helps students learn how to be a firefighter.
NFPA 1001 Firefighter Level I and II
Firefighter courses in Ontario include the NFPA 1001 Level I and II Firefighter Certification. As entry-level training programs, material is delivered in classroom and through hands-on training in a safe and controlled environment.
FESTI's prerequisites for this course are students are required to be 18+ years of age, have an Ontario Secondary School Diploma (OSSD) or equivalent, a completed Medical Screening form, and a valid Standard First Aid CPR Level "C" with AED or First Aid BLS issued by a recognized provider.
Over 18 weeks, students will be exposed to training and materials of NFPA 1001 FFI and FFII course, NFPA 1072 Awareness and Operations course, NFPA 1006 Chapter 5 on Technical Rescuer course, Red Cross Emergency Medical Responder course, and all related examinations by the Ontario Fire Marshall office.
The training itself will entail living and working as a professional firefighter with responsibilities of care and maintenance of a firehall, vehicles, and firefighting equipment. Proper hands-on training with rescue ladders, extinguishing all types of fire scenarios, be involved in search and rescue, and how to respond in a burning structure.
NFPA 1072 Hazardous Materials Awareness
The NFPA 1072 Hazardous Materials Awareness training at FESTI requires no prerequisites as it is designed to enhance the training and education of those in the fire, police, and emergency medical services fields. A course accredited by the Institute of Fire Engineers Canada (IFE), it focuses on a first responder's service to managing hazardous materials.
This one-day course introduces the hazardous materials to be aware of, potential problems, and how to protect against working in dangerous situations. Understanding the properties of hazardous materials enables students to respond safely and effectively to fire scenarios with the chemicals.
NFPA 1072 Hazardous Materials Operations
First responders involved in responding to hazardous materials scenarios can benefit from obtaining certification of NFPA 1072 Hazardous Materials Operations. It is part of the Ontario Fire Marshal's requirements to achieve Firefighter Level II designation.
Focusing on safe response to situations with hazardous materials, the participants will learn to contain and control the incident while defusing the situation. This course covers legislation dealing with dangerous goods, markings and placards for shipments, hazardous materials containers, and terrorism activities.
This four-day course allows graduates to apply for the Office of the Fire Marshal provincial exam for the International Fire Service Accreditation Congress (IFSAC) Accreditation for Awareness and Operations levels.
Increase Your Application's Value with EMS Certifications
Firefighters are expected to handle all forms of scenarios and therefore benefit from an emergency medical responder course. As firefighters work in various neighborhoods, towns, and cities, emergencies can arise at anytime, anyplace. Often times, firefighters are the first on scene to emergency calls.
Having an Emergency Medical Training certification can save lives! Regardless of whether a fire department position calls for a firefighter to be registered as an EMT, the qualifications provide opportunities.
Standard First Aid, CPR Level C, and AED
The standard First Aid CPR Level C, and AED course is a two-day in-class and online training for all emergency responders. Lessons will include first aid and cardiopulmonary resuscitation (CPR) skills for providing medical attention in an emergency situation.
This course offers preparedness to respond, the EMS system, the Check, Call, Care checklist, airway emergencies, breathing and circulation emergencies, and first aid for respiratory and cardiac arrest. Firefighters also will be trained in wound care, head and spine injuries, bone, muscle and joint injuries, sudden medical emergencies, and handling environmental emergencies.
Emergency Medical Responder (EMR)
Once a person is certified with FESTI's Standard First Aid, CPR Level C, and AED prerequisite, the Emergency Medical Responder (EMR) course provides a higher level of emergency training. The course is based on accepted curriculum of the National Occupational Competency Profiles, created by the Paramedic Association of Canada.
Through demonstrations, classroom learning, and scenarios, it covers the skills needed for patient assessments, interventions, and ongoing care, including the transportation to a healthcare facility. Content includes responding to the call, infection prevention and control, anatomy and physiology assessment, and shock conditions.
Hemorrhage and soft tissue trauma, musculoskeletal injuries, chest, abdominal and pelvic injuries, and head and spinal injuries are addressed. An EMR receives training in acute and chronic illnesses, environmental illnesses, crisis intervention, and pregnancy, labour, and delivery situations. The course also encompasses multiple-casualty incidents, pharmacology, marine environments, and workplace emergencies.
Firefighter Recruitment and Selection Process in Ontario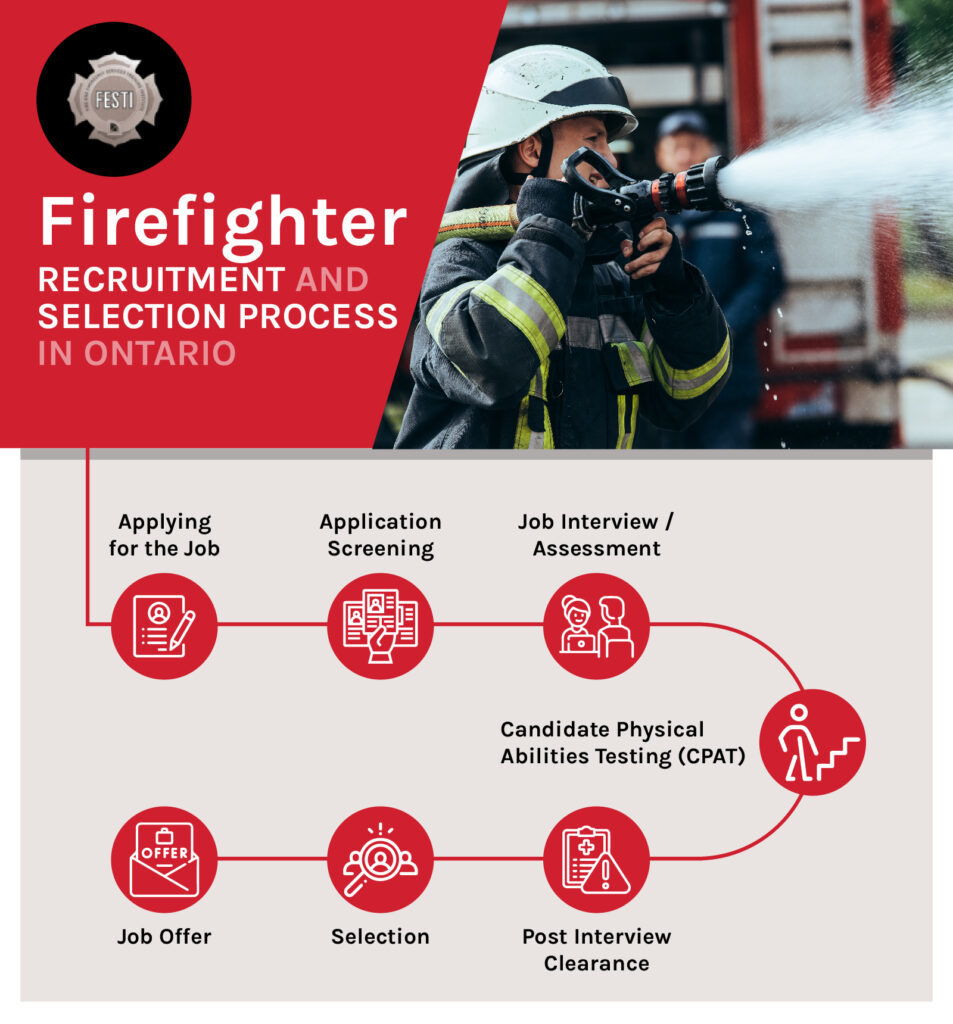 A firefighter is expected to maintain a code of ethics and professionalism, be able to work long shifts and holidays, be a team player, be organized, and quick on their feet. As firefighters respond to all emergency situation, they must be able to perform duties of great physical effort, in confined spaces, and at great heights.
Firefighters may be a rare breed of men and women but the competition for a position is fierce. In addition to attending and graduating from an accredited firefighter academy, a candidate must be prepared for the commitment of the recruitment process.
Applying for the Job
Similar to a university application, a firefighter may be required to pay an administrative fee to apply for a position. Applications are submitted online with a cover letter, resume, reference letters, and proof of qualifying certificates.
Application Screening
The screening process by a fire department may be conducted by the appropriate Human Resources and hiring committees. Selected candidates will be notified and expected to provide copies of all training and educational-related certificates.
Job Interview/Assessment
Once a candidate receives confirmation of an interview, there are various stages consisting of in-person interviews and written assessments. There may be additional fees for access to written and physical testing depending on the fire company and position. Professional and criminal background checks are compulsory with any firefighter position.
In Ontario, all fire departments adhere to the Accessibility for Ontarians with Disabilities Act and the Ontario Human Rights Code. Selected candidates will be offered accommodations during the recruitment and assessment process.
Candidate Physical Abilities Testing (CPAT)
All selected candidates will be required to perform the Candidate Physical Abilities Testing (CPAT) section. There are eight separate testing events that are performed in a sequence of progression. Two orientations are recommended to partake in: a practical orientation and a virtual orientation. Both provide candidates the opportunity to test their own physical abilities with valuable feedback.
The CPAT consists of a stair climb, hose drag, equipment carry, ladder raise and extension, forcible entry, search, rescue, and ceiling breach and pull event. These actions are expected to be done as a collective unit within a time period of 10 minutes and 20 seconds. Any errors or exceeded time limit is an immediate failure.
There is a distance of 25.91 metre walk between the events to provide a time of 20 seconds to regroup between the course sections. All equipment used is standardized to offer a real-life scenario. Each candidate will wear long pants, hard hat, work gloves, and proper footwear with no jewellery worn. A 22.68-kilogram weighted vest is worn under regulated firefighter protective clothing as a representative of the weight of a self-contained breathing apparatus (SCBA). For the stair climb event, the candidate will also carry an additional weight of 11.34 kilograms to simulate a hose bundle.
Post Interview Clearance
Before a determination is made, candidates will undergo a Criminal Record Check (Level 3 – Vulnerable Sector Check) from the local police station. If a candidate has a criminal record, a pardon may be permitted depending on the charge and the decision of the fire establishment.
A background check and a medical assessment are also required to be submitted before a decision of hire is to be made. The medical assessment will need to be performed by an appointed physician in accordance with the NFPA.
Selection
The final decision to hire a successful candidate lies with the hiring committee appointed by the fire department. The outcomes of all interviews, assessments, testing, and references will be properly reviewed and discussed behind closed doors.
Job Offer
The successful candidate will receive a written conditional offer of employment outlining the position as a probationary firefighter. Conditions of the offer include maintaining a valid Ontario D Class License with Z Endorsement, and a drivers abstract during the training period and the 12-month probationary period.
Contact FESTI to Enroll in Fire Fighting Training
If you are ready to begin a career as an Ontario firefighter, contact the Fire and Emergency Service Training Institute (FESTI). As a private career college, we offer recognized training for fire and emergency service professionals. Within our location at Canada's largest international airport, Toronto Pearson, we are the airport's fully operational fire service.
Let us help you Rise Further
Get started with FESTI today