The Life-Saving Significance of Trench Rescue Training for Firefighters
Estimated reading time: 6 minutes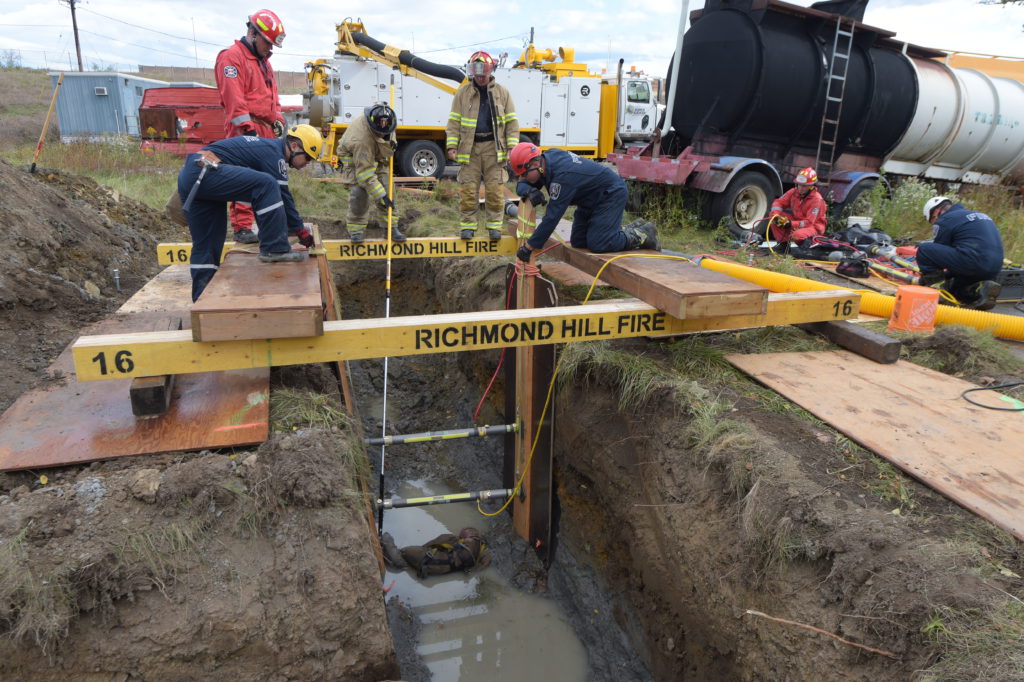 Trench rescue training is often considered a high skillset for firefighters, with many departments reserving it for a select few of their members. However, firefighter training actually encompasses specialized training for all firehouse members to ensure the community receives comprehensive, effective service.
A trench rescue involves a specialized emergency response to people trapped within an enclosed or confined space. It can happen on public and private properties where any form of excavation is occurring.
Firefighters work to rescue victims by providing emergency care while securing the area and the trench walls for a safe, effective rescue.
Hazards of Trench Rescue Operations
Part of trench rescue training involves preparing firefighters for the hazards involved in this kind of emergency operation. So, let's go over some of the risk scenarios that will be covered in trench rescue operations instruction.
Cave-ins
A cave-in is a common result of trench accidents. This occurs when the area's walls become unstable and collapse inwards. This scenario is especially hazardous when there's a victim trapped in the trench.
Limited Access
Whether the collapsed trench is within a building or on the grounds of a property, there can be a high chance of limited access to the danger zone. Trenches can be deep and narrow, limiting the ability to perform rescues.
Limited Visibility
Regardless of whether the accident occurs during daylight hours or after dark, a trench rescue is often performed in pitch-black or dark conditions. This can increase the risk of danger for both the rescuer and the victim.
Hazardous Materials
The location of the trench may expose the victim and rescuers to dangerous materials. For instance, chemicals and hazardous waste may be stored in nearby tunnels or bins.
Suffocation
Aside from the danger of a trench collapsing and sending debris onto the victim, these narrow and confined spaces may lack adequate oxygen supply.
Electrocution
Trench rescues may involve the risk of electrocution due to utility wires and cables buried beneath the ground or within the collapsing walls of a building.
Machinery Accidents
Building and road construction sites are notorious for trench collapses. This is because the heavy machinery used to move dirt and debris increases the risk for trench accidents.
Fatigue and Stress
The rescuers' existing physical or emotional state can add to the dangerous situation of a trench collapse. Let's not forget that the physical demands of a trench rescue can lead to fatigue and stress.
Why Trench Rescue Training Is Essential for Firefighters
Now that you have a better idea of the risks involved with trench rescue operations, here's an overview of why getting proper training for these situations is so critical:
Saves lives: Trench rescue courses provide fire and emergency personnel with the education and proper training required to save lives.
Provides safety: Firefighters and emergency personnel need to be able to keep themselves and their team members safe during a hazardous situation to be able to help others.
Complies with regulations: Trench rescues are dangerous for all involved. This type of rescue requires strict scrutiny and regulations to ensure all safety measures are adhered to for the victims and firefighters.
Enhances skill set: With the increasing use of rescue equipment and techniques, it's vital for firefighters to update their skills regularly. And this is especially true with trench rescues.
Provides a comprehensive service: A trench emergency can happen at any time at construction sites, abandoned buildings, and near waterways. Having the skill set to attend any rescue is part of the comprehensive services the local community expects.
Improves response times: Proper trench rescue training helps firefighters respond quickly and safely to any dire emergency with successful outcomes.
Prevents accidents: While firefighters cannot predict what will happen during a trench rescue mission, they can identify security issues that may lead to serious accidents or even death. This form of training and education can reduce such incidents as trench accidents.
Builds teamwork and trust: As with any training program, the knowledge received can help develop a bond of trust and reliability between fire team members.
Increases community safety: Trench rescue training programs are another step in a firefighter's role in keeping the community safe.
Meets community needs: By offering the community comprehensive and reliable service, firefighters can better meet the needs of those they serve.
FESTI's Trench Rescue Training Course Programs
The Fire and Emergency Services Training Institute (FESTI) offers trench rescue training for firefighters among its programs for fire and emergency services.
NFPA 1006 Trench Rescue Operations
Candidates are required to have current Standard First Aid, CPR-C, and AED training before beginning the NFPA 1006 Trench Rescue Operations program. This course teaches the fundamental techniques to rescue people trapped in a basic trench measuring no deeper than eight feet.
NFPA 1006 Trench Rescue Technician
The NFPA 1006 Trench Rescue Technician program requires candidates to hold valid Trench Rescue Operations certification before starting this five-day training. This course focuses on rescuing victims from complex trench emergencies through classroom learning and hands-on rescue training at our mock-up area.
NFPA 1006 Machine Rescue
Our NFPA 1006 Machine Rescue program requires candidates to hold pre-requisites of Standard First Aid with CPR Level C. With the advanced technology of machinery, it is vital for firefighters to be aware of and trained in rescue tactics involving emergency machine situations.
This course involves managing resources, incident and scene surveys, site operations, hazard and fire control, victim and rescuer protection, disentanglement and removal of victims, and building mechanical equipment operation.
Rescue Training Facilities at FESTI
FESTI offers a wide array of certification programs at our unique training location at Toronto Pearson International Airport in Mississauga, Ontario.
Our facility has received certification from the Leadership in Energy and Environmental Design (LEED). It is the world's most widely used green building rating system and is recognized as a symbol of sustainability achievement.
We have modern in-classroom facilities in conjunction with training buildings. These include a confined space building, a rescue tower, a burn building, an auto extrication area, and a machine rescue area.
Our aircraft training mock-up area, hazardous materials training site, and a Trans Canada rail car (dubbed TransCAER CCPX 911) for superior training.