How to Become a Volunteer Firefighter in Canada
Estimated reading time: 5 minutes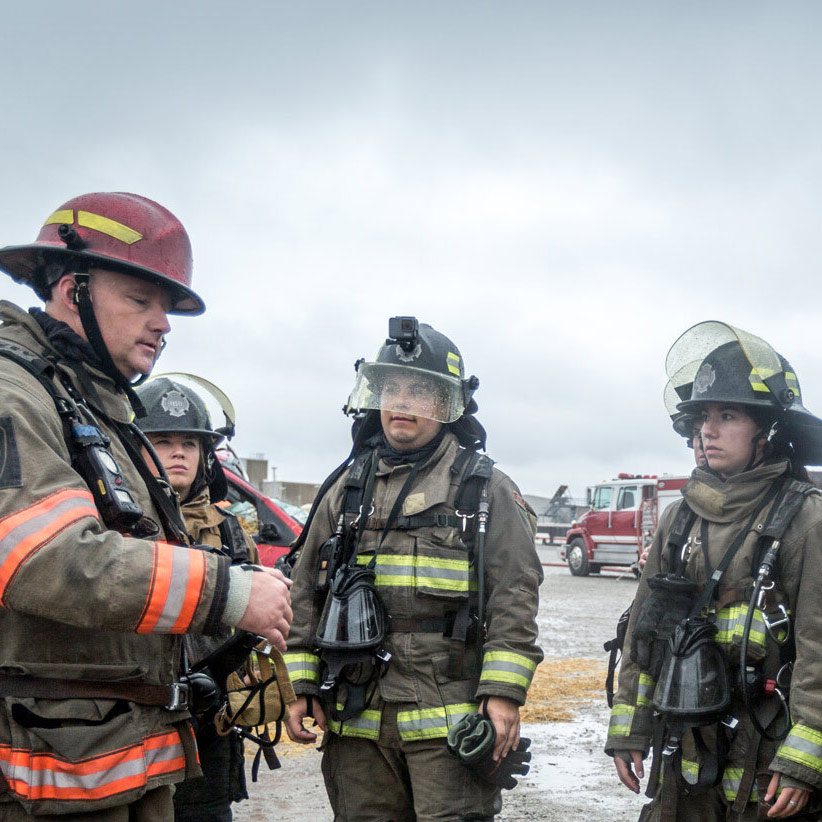 To become a volunteer firefighter in Ontario, there are specific requirements and skills you should have that ensure you are mentally and physically capable of joining the highly intensive career. Volunteer firefighters work alongside permanent firefighters in response to emergency calls. Most volunteer firefighters have full-time jobs in other fields but have the ability to respond to emergency calls.
Minimum Qualifications Required to Become a Volunteer Firefighter
Pre-firefighter training in Ontario consists of a range of skill development and basic requirements. The following qualifications are needed to become a volunteer firefighter:
Hold a valid driver's license
Be 18 years of age or older
Able to understand and communicate in English and/or French (written and oral)
Physically able to perform tasks and duties of the job
Able to commit scheduled time to training
Live and/or work in the response area
Be of sound and positive ethics and thrive in a team environment
Be conviction free of a criminal offense related to the duties of a firefighter
What Are the Responsibilities of a Volunteer Firefighter?
Work as part of an organized team
Protect citizens in times of crisis
Perform the duties of first responder
Respond to a broad range of emergency situations
Provide pre-hospital care for victims
Be a community role model
Upgrade skills, knowledge and physical requirements
Maintain the fire station and upkeep of firefighting equipment
Perform the duties of administration, fundraising, public education, or other as assigned
The Volunteer Firefighter Recruitment Process
To become a volunteer firefighter in Ontario, the recruitment process can vary from department to department and if the position is within a private company or for a municipality. 
Informational Meeting
During recruitment time, fire departments often offer information meetings open to any interested candidates. This acts as an introduction to the position of a volunteer firefighter and its role responsibilities.
Application
If a person has decided after an information meeting that volunteer firefighting is still a goal, applying for the position is the next step. A basic volunteer application will involve submitting personal information, education background, work history, and a list of credible references. A volunteer must live within a specific distance of the firehouse.
Background Check
As with any form of employment and volunteer position, a background check is conducted to review any criminal convictions, credit history, and driving record.
Interview
A competency interview will take place with members of the fire department's administration and the Fire Chief. Based on the application and any information from the background check, the candidate will have the opportunity to discuss their experience and skills. Proficiencies focus on communication, stress management, teamwork, ethics, and customer service.
Physical Fitness Assessment
A physical fitness assessment is a vital portion of the recruitment process as candidates must be able to perform rigorous tests of endurance, strength, and agility. A full physical medical test will be done in addition to a fitness test that consists of a claustrophobia test, hose advance/drag, a ladder lift, hose carry/climb, rope pull, forced entry, and a victim drag obstacle.
Training
The training process is an ongoing condition of becoming a volunteer firefighter. New recruits will learn the basics of firefighting skills, emergency response protocols, and become familiar with their department's policies and procedures. Most training sessions can involve seven to 10 weekends of training.
Probationary Period
Depending on the individual fire department, new volunteer recruits may experience a probationary period. This timeline may range from three months to one year. The probationary period is intended to assist the volunteer firefighter and the department to uncover strengths and areas that may need attention in skill building.
Ongoing Training
Just as hired firefighters must continue their studies and training, volunteer members are also required to continuously update their skills and education during their posting.
Do Volunteer Firefighters Get Paid (Regular Salary)?
No, volunteer firefighters do not receive regular salary in their position. There are some fire departments that offer renumeration for call response, training, or other related services. Volunteers can claim expenses through the federal Volunteer Tax Credit.
Volunteer Firefighter Tax Credit Regulation 2023 
The Canadian Association of Fire Chiefs (CAFC) continues to ensure the Canadian federal government offers the Volunteer Firefighter Tax Credit to all volunteer firefighters. With the 2023 regulation standing at a maximum limit of $3,000 per year, the CAFC has asked for the amount to be increased to $10,000.
The Volunteer Firefighter Tax Credit is available for those volunteers who regularly attend fire meetings, respond and are on call for all emergency calls, and attend related training programs/workshops. Any volunteer firefighter who contributes at least 200 hours of service per year can apply for the tax credit.
Can a Volunteer Firefighter Become a Full-Time Paid Firefighter?
Yes, with the right firefighter training, a volunteer can become a full-time paid firefighter at departments across the country. Volunteer members are exposed to the basic training and education of the firefighting service which can be expanded to positions with commercial, municipal, and other forms of firefighting.
How FESTI Can Help Fire Departments with the Training of Volunteer Firefighter Recruits
The Fire Emergency Services Training Institute (FESTI) offers exceptional volunteer firefighting training with our NFPA 1001 Firefighter Training programs. We have an in-house program and a blended program that combines at-home and onsite training courses.
Our firefighter academy offers a variety of certification courses for new and existing firefighters, leadership programs, and EMR courses. FESTI participants have successful careers in essential emergency services.
See our list of volunteer firefighting programs here or contact us for more information.