From Flames to Rescue: Exploring the Challenges Faced by Aircraft Firefighters
Estimated reading time: 5 minutes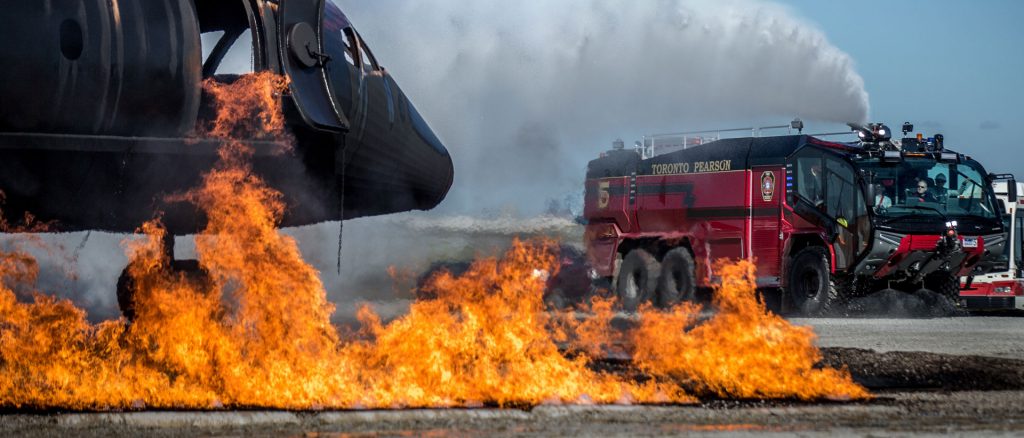 Aircraft firefighters are glamourized by Hollywood but face hazardous and life-threatening challenges in the real world. Rescue training for firefighters must address these challenges to protect the safety and health of the firefighters and the general public.
Canadian Aviation Regulation (CAR) for Aviation Firefighters
Aircraft firefighting training is mandated by the Canadian Aviation Regulation (CAR) under Transport Canada and the responsibility of the Minister of Transport. The training requirements, equipment requirements, and response procedures require stringent polices, guidelines, and certifications.
Unique Challenges Faced by Aircraft Firefighters
Aviation firefighters face some of the challenges aircraft firefighters face on a daily basis, as well as many unique challenges specific to the field:
Rapid Response and Time Sensitivity
Fires of any form require quick and efficient response and an aircraft fire can happen anywhere, on and off the tarmac. With the rapid spread of fire, responders must be able to attend to the incident in a matter of minutes. The situation becomes tricky with aircrafts landing in remote or dense areas such as woods and fields, or even in busy neighbourhoods.
High Flammability of Aircraft Fuel
Working with aircraft fuel presents its own unique challenges due to the hazardous composition of the various types of fuels. Aircraft uses petroleum-based fuels, or synthetic fuel blends which have higher risk regulations than fuel used for ground vehicles.
Aircraft Structures and Systems
At first glance, the aircraft systems and structures can be daunting, confusing, and overwhelming. Response challenges include understanding and being familiar with the design of the aircraft and designated spaces within the cabin.
Confined Spaces and Evacuation
Responding to various sizes of aircraft emergencies presents the challenge of fighting fires within confined spaces to successfully evacuate trapped passengers and crew. These spaces include cockpits, cargo holds, engine compartments, and within the aircraft cabin itself.
Danger of Jet Engine Ingestion
A firefighter needs to keep their safety in mind when attending a fire, particularly one dealing with the jet engines of an aircraft. The jet engine ingestion is a dangerous situation as the powerful components draw in air which pulls in any object or person within the designated area.
Aviation-Specific Firefighting Tactics
An aircraft fire presents different challenges than that of a structure fire. The location, extreme temperatures, and adverse weather conditions can increase the risk for passengers, crew, and emergency responders themselves.
Collaboration and Coordination
Aircraft firefighter training must involve learning the importance of working closely with other related industries in responding to an emergency. In coordinating to respond to aircraft fires, various members of medical teams, law enforcement, and airport personnel collaborate.
Not Having Enough Trained Firefighters
As with many emergency response careers, there is a lack of trained firefighters, especially in the aircraft emergency response industry. It is crucial to provide firefighters with access to the proper training and work opportunities in becoming an aircraft firefighter.
How Can FESTI Help Aircraft Firefighters with ARFF Training?
Aircraft Rescue and Fire Fighting (ARFF) certification is key in becoming an aviation firefighter by completing the ARFF courses.
Based at the country's largest airport, the Fire and Emergency Services Training Institute (FESTI) enables aircraft firefighters to receive active training through certification programs and courses. Real-world experiences are incorporated into every exercise and learning session.
NFPA 1003 IFE Airport Firefighter Professional
The NFPA 1003 IFE Airport Firefighter Professional certification is part of the ARFF training which is designed for all firefighters assigned to aircraft fire and rescue. Under the stipulations of NFPA 1003 and the Canadian Aviation Regulations 323.14, this course focuses on ARFF vehicles, equipment, use of extinguishing agents, and airport familiarization.
ARFF Awareness for Structural Firefighters
ARFF certification courses such as the Aircraft Rescue Fire Fighting Awareness program is designed for municipal fire departments with a designated airport within the jurisdiction. Response procedures, hazards, positioning apparatus, fire control, and rescue operations are part of the course. It provides an intro to specialized aircraft rescue firefighting vehicles.
Airport Firefighter I.A.W. CARs 323.14
Training for aviation firefighters involves certification of Aircraft Rescue Fire Fighting (ARFF) in accordance with Canadian Aviation Regulations 323.14. Of the 11 modules, firefighter safety, fire behaviour, extinguishing agents, personal protective equipment, and communication is incorporated. It covers airport preplan, airport familiarization, aircraft familiarization, apparatus, rescue operations, and strategic and tactical operations.
ARFF Vehicle Service Course and Test
Aviation firefighters will receive the knowledge and certification for the annual service test by the Canadian Aviation Regulation standard 323. This program provides testing requirements, performance criteria, conducts pre-test pump delivery, tests methods and calculations, pressurized agent purging and venting, acceleration test, and brake operation tests.
NFPA 1002 [Chapter 9] – Fire Apparatus Driver/Operator
Certification and accreditation of the NFPA 1002 Fire Apparatus Driver/Operator involves requirements for personnel responsible for operating the machinery in non-emergency and emergency scenarios.
ARFF Recertification – 1 Day
Current airport firefighters work with Fire Service Instructors for evaluation of the I.A.W. Canadian Aviation Regulations (CARs) 323.14 Compliant Recertification checklist. Recertification provides simulations and scenarios based on response runs with the vehicle.
ARFF Recertification – 2 Days
In conjunction with the Canadian Aviation Regulations 323.14 (4) Recurrent Training, FESTI offers an ARFF Recertification two-day course. Employed airport firefighters are able to retain their level of proficiency.
Training Facilities Offered at FESTI
FESTI offers an environmentally sustainable location designed with advanced technology and equipment to ensure each type of firefighter receives superb training. The facility holds a Leadership in Energy and Environmental Design (LEED) silver rating.
As FESTI is located at Canada's largest airport, Toronto Pearson International Airport, the training facilities for aircraft firefighters are ideal. From a confined spaces building, a rescue tower, a burn building, an auto extrication area, a machine rescue area, a hazardous training site, a Trans Canada rail car CCPX 911, and a specialized aircraft training mock-up area, firefighters have the best training scenarios.
Ignite Your Career with Our Specialized ARFF Training Courses
Aerial firefighting can be challenging to say the least. FESTI offers world-class training and certification for those fire and emergency service professionals dealing with such challenges. We strive to provide every responder with the knowledge, understanding, and qualifications needed to help protect and save lives.
Contact us today for more information about our specialized courses and programs by filling out this form.
---