How Fire Departments Can Prepare Firefighters for Technical Rescue Missions
Estimated reading time: 5 minutes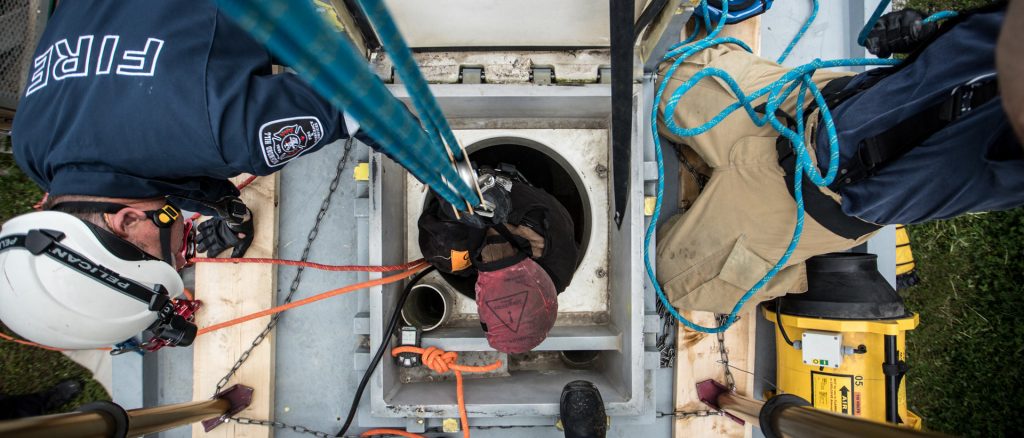 Technical rescue training is key for any size or type of fire department. Fire and rescue services respond to an emergency call on a whim, and many times without knowing what waits to meet them. The basics of search and rescue missions should be part of the core competencies of firefighters.
What Is Technical Rescue
Technical rescue is considered a specialized requirement in response to fire and rescue services. It encompasses six main disciplines of rope rescue, confined space rescue, vehicle/machinery rescue, structural collapse rescue, trench rescue, and water rescue.
What Are Other Technical Rescue Disciplines?
Tower Rescue
Animal Technical Rescue
Wilderness Search and Rescue
Cave Rescue
Mine and Tunnel Rescue
Helicopter Rescue
Surface Water Rescue
Swiftwater Rescue
Dive Rescue
Ice Rescue
Surf Rescue
Watercraft Rescue
Floodwater Rescue
Why Is Technical Rescue Training Important for Search and Rescue Operations?
For a successful technical rescue, certified members must undergo extensive training in the six main disciplines. Each discipline supports the basic rescue operations of the others. Whether a team member is a volunteer, part-time, or full-time firefighter, search and rescue operations can be required during any type of emergency. A structure fire, vehicle accident, or an industrial incident can quickly require specific search and rescue skills as well as the use of suitable equipment.
What Is the NFPA Standard for Technical Rescue Personnel Professional Qualifications?
Qualifications of NFPA 1006 certification for a Technical Rescue Personnel position are obtained with training in the awareness, operational, and technician levels of the course. It focuses on rescue missions on land, water, and air.
Is NFPA 1006 Certification Necessary to Become a Rescue Technician?
The comprehensive NFPA 1006 certification is standard for all search and rescue technicians. Firefighters, emergency medical responders, and law enforcement are considered key candidates to obtain the NFPA 1006 certification in technical rescue operations.
Technical Rescue Training Challenges Faced by Fire Services
A technical rescue certification does not come without challenges. There are three main aspects of the training that can limit access to anyone in the search and rescue fields.
Not Having Experienced Instructors
As a technical rescue certification is obtained to enhance the safety, performance, and ability of a person in the emergency response field, access to experienced instructors is limited. The people with the training and expertise use their knowledge and skills in their own held positions. An instructor in technical rescue courses needs to have extensive experience and training time to provide proper teachings.
Not Having the Required Resources
Classroom and book instruction is just a small part of certification towards Technical Rescue Operations. It is imperative to have the proper resources such as the environment(s), equipment, and PPE for learning. Training for a water rescue cannot be done in a facility's gymnasium, for example.
Not Having the Budget/Funding
One of the biggest challenges with offering Technical Rescue Operations courses to team members is lack of funding. Unlike major corporations in the industry of hazardous activities, fire departments may not have the budget to set up an adequate course that meets the NFPA 1006 standards.
How Can FESTI Help to Overcome Technical Rescue Training Challenges?
Those in the fire and rescue service do have the opportunity to obtain the highest levels of training and certification for Technical Rescue Operations at the Fire and Emergency Services Training Institute (FESTI). Our world-class facilities are located within the fire service of Canada's largest airport at Toronto Pearson International Airport.
All of our team members and teaching staff are experts in firefighting, emergency services, occupational health and safety, and airport emergency preparedness situations. We have the appropriate training grounds and provide advanced equipment and PPE for all training conditions.
FESTI's Certified Training Programs for Rescue Technician Professionals
NFPA 1006 Technical Rescuer
To become a Technical Rescue Technician, our NFPA 1006 program covers all core competencies needed for certification. With demonstrations, hands-on training, and evaluations, candidates learn Incident Command System, Managing Resources, Incident Surveys, Scene Surveys and Searches, Helicopter Support Operations, Scene Safety, Single points anchors, Site Operations, Incident Size up, Hazards Control, Victim Management, Equipment Maintenance, Rescue Knots and Rigging, and Belay and Haul systems.
NFPA 1006 Confined Space Rescue Training
Learning to rescue from confined spaces is not for the faint of heart! Under the NFPA 1006 curriculum, candidates learn through instruction and practical training to recognize hazard and access, stabilize and package victims, and remove victims using the proper equipment and procedures.
NFPA 1006 Trench Rescue Operations
Using the taught knowledge and available tools, candidates are exposed to hands-on training of the NFPA 1006 Trench Rescue Operations course. By understanding safety measures behind rescuing a person from a trench less than eight feet in depth, candidates will have a better chance for a successful trench rescue.
NFPA 1006 Trench Rescue Technician
The NFPA 1006 Trench Rescue Technician course takes the operations course to the next level with hazardous scenarios.
NFPA 1006 Machine Rescue Training
To be prepared for a machinery rescue, the NFPA 1006 Machine Rescue training program focuses on equipment use for extrication emergencies. Hand and power tools are used in various rescue operations.
Aircraft Rescue Training
There is no better place than Canada's largest airport to learn and obtain certification in aircraft rescue training. Instructed with real-life scenarios, the content taught is practiced with Aircraft Rescue Firefighter Training (ARFF) equipment and personnel.
At FESTI, we offer certifications for all firefighters, emergency medical responders, police service members, and corporate leadership members. Register for a course or program by clicking here and complete the webpage registration. Or for more information about FESTI, contact us today.
---