Why Firefighters Need Emergency Medical Responder (EMR) Training
Estimated reading time: 5 minutes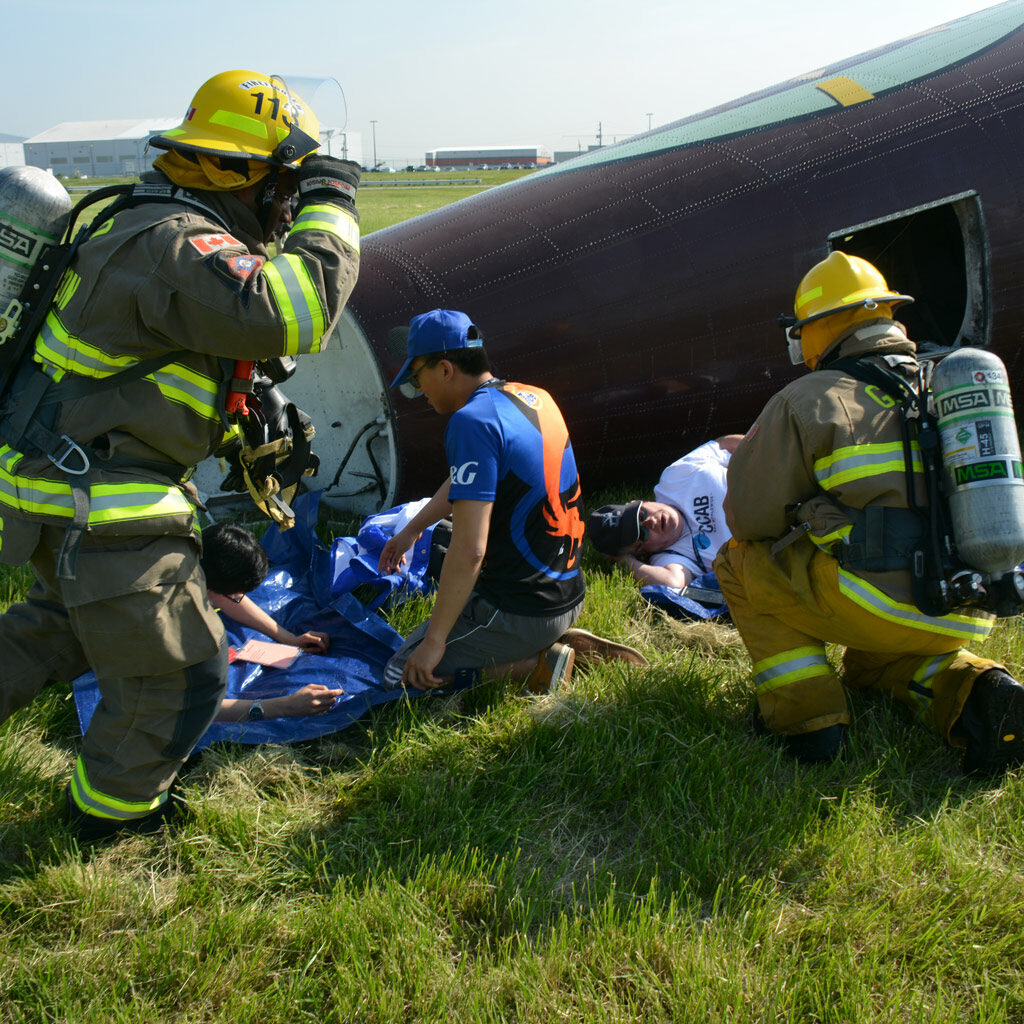 Emergency Medical Responder training courses are used by first responders across the country. Those with this type of specialized medical training are properly equipped and educationally prepared for all emergency situations.
All first responders are trained with basic medical skills including, but not limited to, administering first aid and CPR. First responders can be firefighters, police officers, correctional officers, parole officers, and probation officers as put forth by Canadian emergency services.
An Emergency Medical Responder has all of these basic medical skills with advanced training in life-saving measures, monitoring one's condition, making critical medical decisions, and transporting a patient to a healthcare facility.
Why Is Emergency Medical Training for Firefighters Important?
As a firefighter, you are expected to control and extinguish fires, educate the public on fire safety, and offer basic medical help. But what do you do when a fire call turns into a medical emergency with life-threatening situations? Having the extensive knowledge and training to respond to any form of an emergency call could make all the difference.
A medical emergency can happen in an instant. As firefighters are generally one of the first to arrive on a scene of an accident or structure fire, the ability to administer emergency medical assistance could mean the difference between life and death.
Firefighters respond to hazardous situations every day, which also puts their own life at risk. Having the training and mindset to help each other if the need arises would be beneficial to firefighters, emergency medical responders, and the general public.
Is EMT Training Necessary to Become a Firefighter?
For most firefighter positions, EMT training is not mandatory. Firefighters are required to have valid First-Aid and CPR training certification regardless of their position. That being said, there are specialized firefighter positions within fire departments, companies, institutions, and government agencies that do require a firefighter to also have EMT training as a firefighter paramedic.
Responsibilities of Firefighters as a First Medical Responder
A firefighter with training and certification as a first medical responder can administer first-aid and control the medical emergency to stabilize victims. Other responsibilities include, but are not limited to:
Assess patient conditions
Perform CPR
Give oxygen
Bandage wounds
Assist with childbirth
Gather medical histories
Load patients into ambulances
Clean up any blood or other fluids
How FESTI Can Help Firefighters with Emergency Medical Training
The Fire and Emergency Services Training Institute (FESTI) is one of the leading training facilities for firefighters and emergency personnel. With its headquarters at the country's largest international airport—Toronto Pearson—FESTI has state-of-the-art equipment, training grounds, and world-class instructors who themselves have worked on the front line of fighting fires.
Candidates have a selection of emergency medical training courses to choose from to accommodate the needs of their current and future positions within the firefighting field.
Standard First Aid, CPR Level "C" and AED (Red Cross)
The Standard First Aid, CPR Level "C" and AED course lays the groundwork and training for basic medical skills to respond to any emergency situation. Participants study response preparedness, EMS system, airway emergencies, wound care, injuries, poisons, and environmental emergencies.
Emergency Medical Responder
FETSI offers an Emergency Medical Responder course that provides three-year certification. With basic medical training as a prerequisite, participants study patient assessments, interventions, and transportation of a patient. All course material and training adhere to the requirements of the National Occupational Competency Profiles (NOCP) as defined by the Paramedic Association of Canada.
Tactical Emergency Casualty Care (TECC)
For advanced and specialized emergency medical training, FESTI offers Tactical Emergency Casualty Care certification. Based on the guidelines of Tactical Combat Casualty Care (TCCC) program and Committee on Tactical Emergency Casualty Care (Co-TECC), it uses military lessons. Participants will learn hemorrhage control, surgical airway control, and strategies for treating wounded responders in threatening environments.
Emergency Medical Responder Certificate Renewal
For those requiring a recertification of the Emergency Medical Responder course, FESTI offers EMR course for the EMR certification. With updated policies and procedures as set forth by the Paramedic Association of Canada National Occupational Competency Profile, participants will be trained in responding, hands-on care, injuries, environmental emergencies, and multiple casualty situations.
Contact FESTI to Learn More About Our EMR Training Courses
Interested in advancing your firefighting training to emergency response? FESTI offers certification training with the highest standards with the EMR course in Toronto. Eligible candidates will be learning and working within an active fire department as FESTI is part of the airport team of Toronto Pearson.
All of our programs, training courses, and learning classes meet the National Fire Protection Association (NFPA) procedural guidelines and polices. As such, our institute is constantly updating and advancing all levels of education and training.
While EMR certification is not necessarily a requirement to be a recruit for fire fighting, more and more departments are making this certification required for job postings. To be competitive, be sure to review all required certifications and make sure you are ready for your application.
Starting today with EMR certification will be a good way to make sure you are ready! Contact us to register for our Emergency Medical Responder course and other related firefighting programs.
---