Advanced Confined Space Rescue Training for Firefighters: What You Need to Know
Estimated reading time: 5 minutes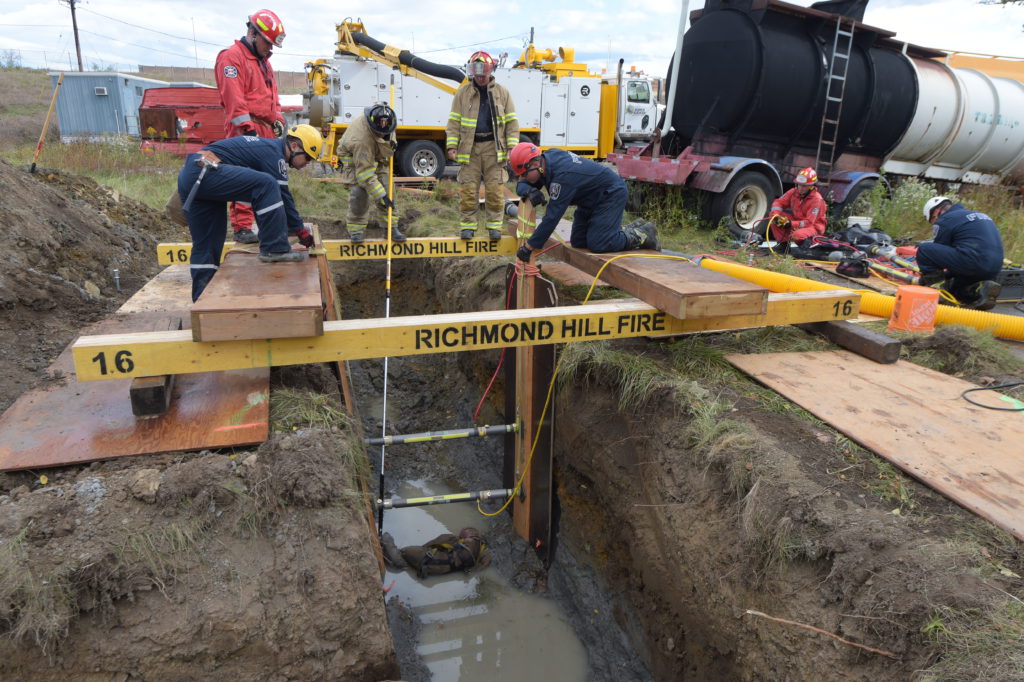 Confined space rescue training is a specialized skill to prepare firefighters and emergency personnel for hazardous and dangerous situations.
A confined space is defined as an area with no clear entrance or exit and is not designed for continuous use by people or animals. As confined spaces can involve vessels, tanks, sewers, pits, silos, tunnels, and ductwork, it is imperative that all rescue personnel possess the skills, knowledge, and equipment to ensure a successful outcome.
Hazards Associated with Confined Space Rescue Missions
Oxygen Deficiency or Enrichment: During a rescue from confined spaces, all parties involved are exposed to air quality with less than 19.5% oxygen. Low levels can lead to asphyxiation or suffocation. Danger is evident with high levels as well with an enriched oxygen atmosphere leading to fire or explosion hazard.
Toxic Gases and Vapours: Because of exposure to hazardous chemicals or substances, rescuers and victims can inhale carbon monoxide, methane, hydrogen sulfide, or other harmful gases.
Entrapment or Engulfment: Industrial buildings often see entrapment of rescuers and/or victims due to the materials handled such as water, sand, and grain.
Flowing Liquid or Free Flowing Solids: Confined spaces are at risk for being an open invitation for free flowing hazardous liquids that can cause the person trapped and the rescuer to experience burns, drowning, or suffocation.
Mechanical or Electrical Hazards: All commercial buildings have hazardous potential with live wires and dangerous equipment which can injure or cause a fire in or near a confined space.
Excessive Temperatures: Depending on the area of the building, the confined space can be exposed to extreme heat or severe low temperatures, putting victims and rescuers at higher risk of injury and death.
What Role Do Firefighters Play in Confined Space Rescue?
As with any form of an emergency situation, a firefighter works with their team to save victims from confined spaces while ensuring their own safety is not in jeopardy.
Within minutes upon arriving on the scene, firefighters assess the situation, create a safety perimeter, and plan a rescue with the appropriate equipment and skills. With each rescue, victims are assessed, provided emergency medical care, and transferred safely to emergency medical personnel.
How Can Firefighters Reduce or Prevent Confined Space Rescue Hazards?
Implementing Ventilation Measures: With a confined space, good ventilation provides the appropriate oxygen levels while removing all hazardous vapours and gases.
Using Appropriate Personal Protective Equipment (PPE): Gloves, respirators, and protective clothing are vital to all hazardous situations to keep personnel and the victims protected and safe.
Establishing Proper Emergency Response Protocols: A confined space rescue operation requires precise and proper emergency response planning to see a successful outcome.
Providing Proper Training: Having proper training in facing confined spaces and emergency situations can help reduce injuries.
Benefits of Advanced Confined Space Rescue Training
Firefighter training for confined spaces involves skills to reduce the risk of injury or death through enhanced safety measures. While all rescue operations need to be focused on the emergency, there are regulations and standards that need to be followed to keep everyone involved safe.
In addition, confined space training allows rescue personnel to have the knowledge and skills to perform in high-pressure situations regardless of the challenge. Specialized rescue methods can lead to the successful extraction of both the victim(s) and rescuers from within confined spaces. Every form of advanced training can support a firefighter in their goal to further their professional career.
How Does FESTI's Confined Space Rescue Training Courses Help Firefighters?
The Fire and Emergency Services Training Institute (FESTI) is a private career college that offers training for firefighters, emergency personnel, as well as corporate and team building programs.
Basic Industrial Confined Space Rescue Training
In addition to basic firefighter courses, we offer the Basic Industrial Confined Space Rescue Training program. With the focus on confined spaces rescue response, participants will learn assessment and management of the situation before preparing for the actual rescue.
This training course involves confined rescue within industrial buildings and all that it entails in respect to area hazards and victim/rescuer conditions. The targeted area will then be reorganized to a safe environment.
Emergency Services Confined Space Rescue Training
The Emergency Services Confined Space Rescue Training offers step-by-step instruction on an emergency response in confined spaces situations. The program is designed with similar guidelines of the Basic Industrial Confined Space Rescue course.
Through classroom and hands-on training, learn how to respond to hazards, assist victims involved in a confined space situation, and obtain the necessary skills to manage all equipment and procedures for a successful outcome. Participants will learn to be part of the team with other responding personnel, understand the authority guidelines in emergency situations, and learn extensive rope rescue skills.
Confined Space Entry Certification
FESTI's Confined Space Entry Certification program involves training of skill development for working within a confined space. Candidates will become familiarized with the Canada Labour Code, the Occupational Health and Safety Act, and on-hands learning of equipment. The program focuses on air monitoring, personal protective equipment, simulated scenarios, and live activities.
Why Choose FESTI?
For comprehensive confined space rescue training in Ontario, consider the live onsite training at the Fire and Emergency Services Training Institute (FESTI). Located at the Toronto Pearson International Airport, our experienced instructors provide intense firefighting training programs for candidates from across Canada and the world. Contact us to learn more about our training programs.