How to Become a Fire Inspector in Canada
Estimated reading time: 5 minutes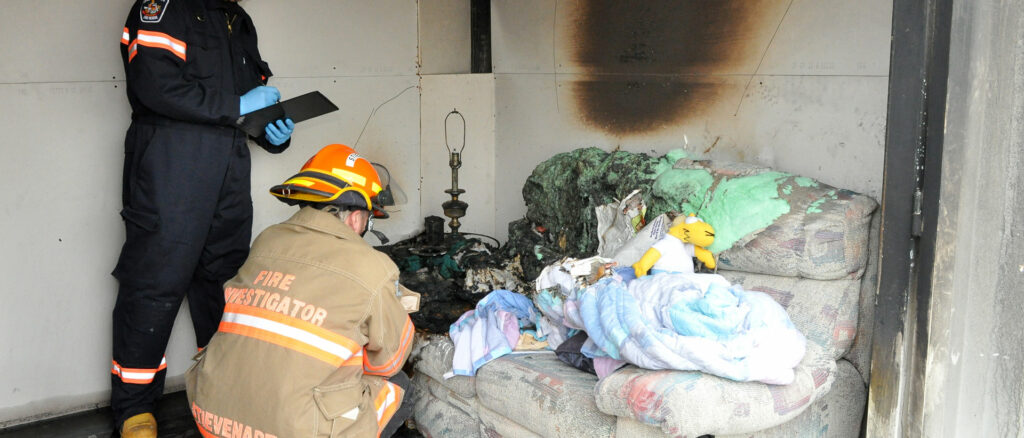 Looking for a rewarding and exciting career? Become a fire inspector to help keep the general public safe by reducing the risks of fires. Working with fire departments, private companies, or government departments, a fire inspector ensures the safety of all structures as per Ontario Fire Codes and Ontario Building Codes.
What's the Difference between a Fire Inspector and Fire Investigator?
While their titles may sound similar, fire inspectors and fire investigators actually serve different purposes within the firefighting community.
Fire inspectors are responsible for checking buildings and ensuring they meet safety codes, while fire investigators are trained to determine the cause of a fire after it has occurred. Both roles are critical in keeping Canadians safe, and it's important for the public to understand the difference between these two vital positions.
Minimum Qualifications to Become a Fire Inspector 
Post-secondary education in Fire Protection Technology, Building Science, Law Enforcement, Criminal Justice and Legal Studies, Criminology, or an equivalent combination of education and experience
Successful completion of NFPA 1031, Level 1
Possess a current and valid minimum Level C, CPR Certificate, Standard First Aid Certificate
Possess a valid Ontario Driver's License Class "G"
Pass in-house entry level TFS exam on Fire Protection and Prevention Act, Provincial Offences Act, Building Code Act, Ontario Fire Code, Ontario Building Code, related legislation and By-Laws and other related material
What Are the Responsibilities of a Fire Inspector?
Conducts fire and safety inspections
Address fire code contraventions
Complies with orders issued by the Ontario Fire Marshal
Issues Orders pursuant to the Fire Protection and Prevention Act
Prepares summonses pursuant to the Provincial Offences Act
Receives complaints, inspects, and tests fire protection equipment and systems
Provides evidence in Provincial Offences Court, Fire Safety Commission, Coroner's Inquests and tribunals, criminal/civil proceedings etc.
Performs public relations activities on fire prevention and life safety to members of the public
Reviews and recommends for the approval of Fire Safety Plans
Exercises all powers as a Provincial Offences Officer
Participates in pre-incident planning
Performs administrative activities
Steps to Become a Successful Fire Inspector
Meet the Minimum Education Requirements
To become a fire inspection, you need to meet basic educational requirement and have specialized certification training under The National Fire Protection Association. A high school certificate or recognized equivalent may be sufficient to become a firefighter in training with some organizations. Fire inspector requirements usually demand post-secondary courses in conjunction with experience as a firefighter.
Gain Relevant Work Experience
To be a great fire inspector, it helps to have first-hand knowledge and experience with various types of fire scenarios. Those who were firefighters before becoming a fire inspector have the advantage of understanding the behaviour of fires. All levels of firefighting will be an asset to the career path of a fire inspector.
Obtain Certifications and Licenses 
Each Canadian province and territory may have its own particular set of certifications and licenses for a fire inspector. In Ontario, all fire inspectors require certification with the National Fire Protection Association (NFPA). The targeted agency may also require specific certifications. This includes NFPA 103 – Fire Inspector I, NFPA 472 awareness, Fire Code Part 2 and 6, Fire Code Part 9, Courtroom Procedures and Legislation, and NFPA 1035 – Fire, and Life Safety Educator I.
Apply for Fire Inspector Jobs
A certified fire inspector works for and with various government departments, on municipal, provincial, and federal levels. These positions are seen within fire departments, city code enforcement agencies, and trade organizations.
Participate in Ongoing Education and Training 
Once certified, it is important for firefighters to continue their studies and access knowledge by participating in ongoing training. The National Association of Fire Investigators (NAFI) and National Fire Protection Association (NFPA) require standards and qualification examinations for fire inspectors.
Gain Experience in a Variety of Areas
Knowledge is power, as is experience. Holding various positions and performing tasks within the fire department can help firefighters gain experience in the field. Fire inspectors may take on the roles of firefighter, fire chief, building inspector, or even a code enforcement officer before beginning their career as a fire inspector.
What Is the Average Salary of a Fire Inspector in Canada?
With accredited firefighter training and a fire inspector certification, new fire inspectors may start with a base salary of $58,474 per year with experienced fire inspectors seeing up to $89,956. In Ontario, fire inspectors average a yearly salary of $74,964.
How FESTI Can Help You to Become a Fire Inspector
The Fire and Emergency Services Training Institute (FESTI) offers an online credited fire inspector course under the NFPA 1031 Level I certification program. Over approximately 12 months, candidates will learn fire safety, codes, standards, and compliances, fire protection systems, inspections, investigations, suppression systems, and the legal responsibilities.
NFPA 1031 Certification Program (Level I)
The NFPA 1031 course in Ontario encompasses five separate co-requisite courses all of which are accredited by the Office of the Fire Marshall.
Ontario Fire Code Part 2 & 6
The Ontario Fire Code Part 2 & 6 plays a major role in the NFPA 1031 Level I certification program. This course focuses on the establishment of a fire safety plan, elimination of potential fire hazards, and ensuring all life safety systems are in place.
Ontario Fire Code Part 9
One of the challenges for any fire inspector is understanding the integrated components of high-risk occupancies. These buildings are categorized under retrofits, which is a huge part of the Ontario Fire Code.
Fire Inspection & Legal Procedures
Our Fire Inspection & Legal Procedures program involves the legalities in relation to fire safety inspections under the Fire Protection and Prevention Act and the Ontario Fire Code. As part of the NFPA 1031 Level I certification, candidates will take part in 13 weeks of the online course.
Don't Wait to Start Your Fire Inspector Training – Enroll Now!
As a leading firefighter academy, FESTI provides a range of comprehensive courses and programs for those in the fire and emergency services. Corporate training and team building programs are also available and can be customized to meet the demands of your group.
FESTI is located within Canada's largest international airport, Toronto Pearson, and is part of the airport's fully operational fire service. All practical training courses are offered onsite with our state-of-the-art facility. Contact us for more information.