Why Choose a Firefighter Career in Canada?
Estimated reading time: 5 minutes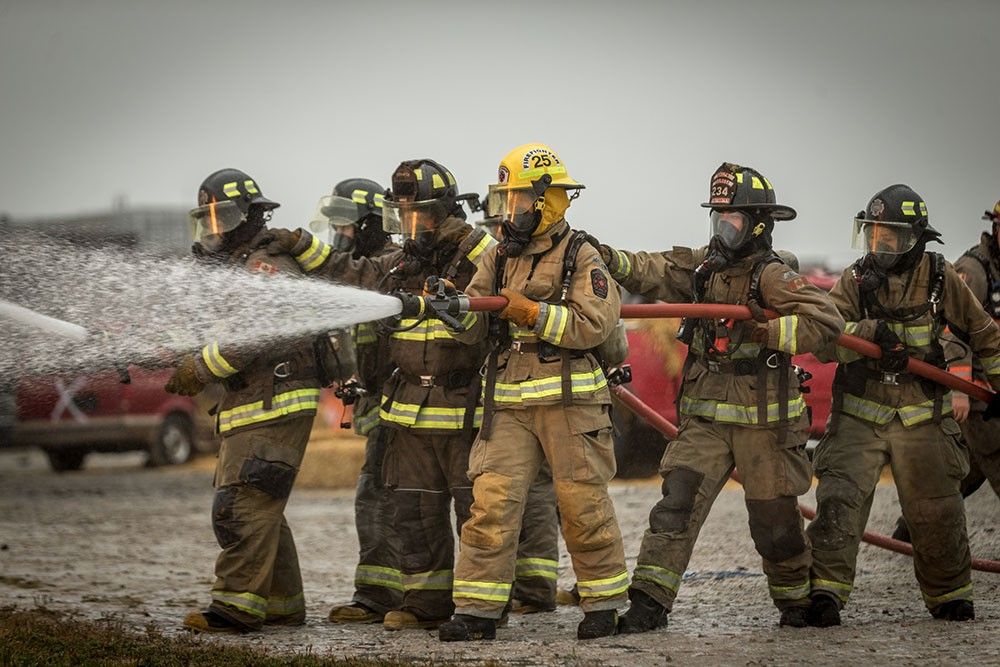 A firefighter career is an honourable way to give back to your community while helping those in need! This fast-paced and challenging career requires dedication to the profession and has been referred to as a "calling".
If you are thinking about becoming a firefighter, read on to learn more about this type of vocation and how you can join the company of Canadian firefighters.
Increasing Demands for Firefighters in Canada
There are demands for firefighters across Canada in both small communities and large cities. Unfortunately, due to Mother Nature and human nature, there will always be a need for firefighters in various fields.
Two main factors for this are the employment growth standards and the impending retirements of Baby Boomers and Gen X firefighters.
What Are Different Jobs Firefighters Can Accomplish? 
With experience, constant training and education, and dedication, a firefighter's position can expand through various avenues. Certified firefighters can move up the ranks within a municipal fire department, the Canadian military, and private companies and organizations.
Many smaller Canadian communities have volunteer firefighters who have basic medical certifications, fire training, and may be paid a percentage or be unpaid.
A firefighter may choose to become an inspector of building safety fire codes. Their focus is directed on educating the public on preventing hazardous conditions.
Wildland firefighters concentrate on stopping forest fires and protecting high risk areas. Their training focuses on specific types of fire to promote plant growth.
Working as a firefighter engineer, the responsibilities are directed to the operation, maintenance, and care of emergency vehicles and equipment. They drive heavy equipment trucks in severe weather and traffic conditions.
If a love of aviation is apparent, a firefighter may choose to work at an airport to manage emergencies and airplane fires. These firefighters work with chemical agents and foams to extinguish mechanical fires.
In areas where emergency personnel access is low, firefighter/EMTs respond to both medical and fire emergencies. Their basic firefighter training is complemented with extensive EMT certification.
Similar to a firefighter/EMT, a firefighter/paramedic is trained to handle medical emergencies and battle fires. The firefighter/paramedic provides all forms of medical care and diagnosis on scene of an emergency.
A fire investigator attends fire scenes once the blaze is extinguished to determine the cause of the fire. They must understand scientific methods of fire to analyze evidence.
Fire marshals have a combination of firefighter, inspector, and medical training to help identify high-risk situations before a fire begins. They have the legal ability to enforce fire codes and investigate fires.
Although a fire chief manages the business side of the fire department, they too continue their role as a firefighter in fighting fires. Most fire chiefs maintain their medical response training as a paramedic or EMT.
How Competitive Is Firefighting in Canada? 
To become a firefighter in Canada, a person must have extensive knowledge and firefighter training. Each fire department or commercial position holds its own regulations and policies for how to become a certified firefighter.
Average Pay Scale of a Firefighter in Canada 
According to payscale.com, the average firefighter salary in Canada is $70,934, based on salary profiles submitted up to September 2022. The pay range is based on location, level of certification, experience, and skills. The lowest hourly rates are found in the Maritimes and Quebec with higher paid salaries found in Alberta, British Columbia, and Ontario.
Can an Immigrant Be a Firefighter in Canada? 
For those who are, or once were, a firefighter in their home country, they may qualify for a Canadian Permanent residency Visa. In addition, the National Occupation Code in Demand List (NOC) includes firefighters as a targeted occupation. Firefighters of other countries can apply under the Canadian Government's Immigration program.
What Skills Are Required to Succeed?
To become a qualified firefighter, there are specific prerequisites depending on the role and location of the firefighter position available. In addition to a high-school diploma or equivalency, certification by a college fire protection program, fire science, or other related course may be required. There are mandatory physical fitness, agility, and strength tests as well as vision requirements.
Necessary Pre-Service Firefighter Program to Become a Firefighter
Pre firefighter training in Ontario is set by each municipality. A Pre-Service Fire Fighter Education & Training Program Certification or a NFPA 1001 Fire Fighter I & II certification from an accredited program at a recognized institution accredited by the International Fire Service Accreditation Congress (IFSAC) is needed.
NFPA 1001 Firefighter Level I and II
These certifications are part of the intensive entry-level training program. Participants learn hands-on and classroom lessons on safety and management of fire extinguishment. Prerequisites include being of 18+ years of age, holding an Ontario Secondary School Diploma (OSSD) or the equivalent, completion of a medical screening form, and being certified in Standard First Aid CPR Level "C" with AED or First Aid BLS issued by a recognized provider.
NFPA 1072 Hazardous Materials Awareness
There are no prerequisites with this certification. The focus is understanding and learning how to respond to emergencies containing hazardous materials. It is designed for fire, police, and EMS personnel who are first on the scene of a hazardous materials emergency. The Hazardous Materials Awareness course is accredited by the IFE (Institute of Fire Engineers Canada).
NFPA 1072 Hazardous Materials Operations
Understanding hazardous materials entails knowing how to properly handle and manage such materials in an emergency situation. This program meets the Ontario Fire Marshal's requirements to achieve Firefighter level II designation and provides certification of the Institution of Fire Engineers (IFE) accreditation. It provides the stepping stone to take the Office of the Fire Marshal provincial exam for the International Fire Service Accreditation Congress (IFSAC) Accreditation for Awareness and Operations levels.
FESTI's Firefighter Training Process and Facilities
As a private college, Fire and Emergency Service Training Institute (FESTI) offers training to future and existing firefighters, emergency personnel, and industry-related participants. As the largest ARFF training provider in Canada, we offer a range of training programs and courses with accredited certification.
Register for a course or program by clicking here and complete the webpage registration. Or for more information about FESTI, contact us today.
---